CB GroupJive (3.4.0)
Take your Community to the next social level by empowering your users to organize themselves into common interest groups. Sit back and watch your community interact, socialize and expand your community by inviting their friends to their groups and your website. This is the main CB GroupJive plugin.
Empower your users to interact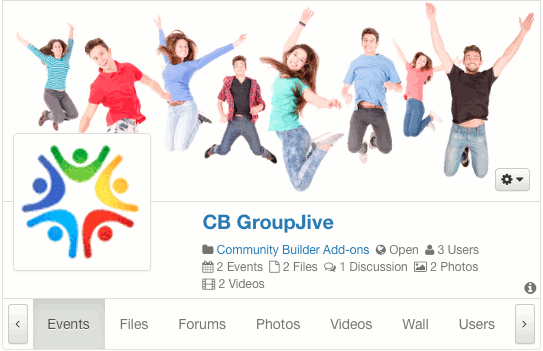 At a Glance
Common interest groups with wall, media sharing, invites and forum discussions.
Mini-Communities
Empowering users to create their own social networks on your website.
Open Source
Everything you download from Joomapolis - whether free or paid - is GPL v2 licensed. This means that you can install it on all your websites and use it forever.
Learn more
about your GPL v2 privileges.
Community Growth
Build a community that can grow on its own! With community created groups your users can collaborate and socialize about the things they love. Bring people together could not be more simple!
Extensible
Your users will socialize through wall posts, videos, events, pictures, and more! Let them share as much or as little as you want through group integrations within their communities.
Sharing
Group members share common wall, photos, videos, files, events and even have private forum areas with built-in Kunena integration.
Joomla Integrations
Built-in integrations for Joomla with search-box extension and group module lister.
Group Activity Streaming
Stream your group happenings to your CB Activity stream with built-in CB Auto Actions system actions.
Categories
Organize your groups for easy access placing them in categories. Each category has its own logo and canvas image. Joomla menu item landing pages can be created for each category to help users quickly locate areas of interest.
A GroupJive Category landing page will show the category image and canvas and then a list og GroupJive groups that are in the category.
Group Communities
Let your community grow with mini-communities created and managed by your users. Bring users with similar interests together!
Each group has its own logo and canvas image and quick Join / Configuration buttons. Groups also have quick tab-based access to group related functionality and content sharing areas in the form of Wall, Photos, Videos, Files, Forums, Events, Users, and Invites.
Need dedicated support?
Subscribe now and have access to our support forums or give our documentation a try!
Configuration
Make everything work your way by configuring categories, groups and group integrations.
Enable/Disable buttons, drop-down selectors and tool-tip pop-ups will guide you through the detailed configuration area.
(Customize how your categories, groups, and integrations function through deep configuration.)
Learn more with our Free GroupJive Primer Book
Get your Free GroupJive Primer Book and learn more about this powerful Community Builder add-on and how it can take your community website to the next level.