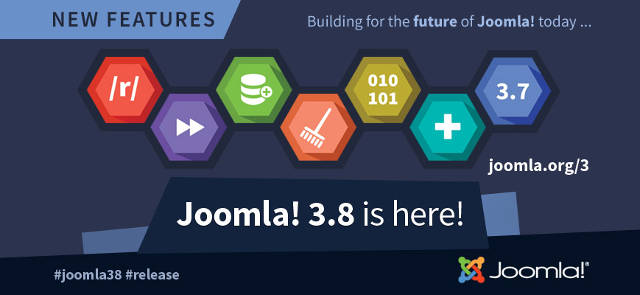 Joomla 3.8 is here with over 300 improvements!
The Joomla project team has released version 3.8 with many improvements and some important security fixes.
The highlighted new features include:
Improved Routing System provides cleaner, shorter and more friendly URLs (no more IDs) for Content, Contacts, Users, and Newsfeeds.
Joomla 4 compatibility layer has been added to pave the way for changes that are planned for Joomla 4.0.
Sample data is now always installable and multilingual. Up to now you could only include sample data during the initial installation of Joomla. This is no longer the case.
Encryption support for PHP 7.2. The core encryption library supports the new sodium extension which will be added to PHP 7.2.
You can learn more about these key features and other Joomla 3.8 improvements by visiting the What's new in Joomla 3.8 site.
Joomla 3.8 also has 2 very important security fixes:
Community Builder 2.1.3 and all Joomlapolis add-ons work just fine with Joomla 3.8.
However, there are reports of other components and templates having problems. So, as always, before rushing to do a one-click Joomla upgrade on your website, take a backup and do your research with all third-party products you have installed. And before upgrading on your live site, go through the process on a cloned backup site and test before you tackle your production environment.