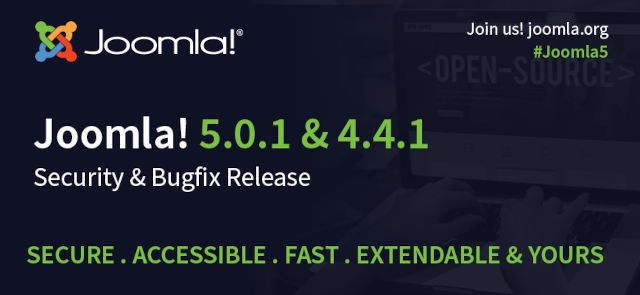 🎉 Joomla 5.0.1, 4.4.1 and 3.10.14-elts are released and it's a safe upgrade! 🥳
The Joomla project has released versions 5.0.1, 4.4.1, and 3.10.14-elts, addressing a very-low-probability vulnerability that affects Joomla versions 1.6 to 3.10.12, 4.4.0 and 5.0.0.
This vulnerability is of very low probability, as it requires the site super-administrator to have given to the attacker editing access to the language files, to potentially expose environment variables that may contain sensitive information.
Security Update Instructions:
Joomla 5.0.1 and 4.4.1: Easily update through the standard built-in Joomla updater.
Joomla 3.10.14-elts: Consider upgrading your Joomla 3.10 site to Joomla 4.4.1 instead (see below for instructions). If not possible, consider subscribing to the official 18-months Joomla Extended Long-Term Security support program, while planing an upgrade to 4.4.1 and 5.0.1. Visit elts.joomla.org for more details.
Key Improvements in Joomla 5.0.1:
Update of TinyMCE Editor to the Latest Version
Conditional Dark Mode in Editors
Enhanced Information in Custom Fields for Finder Indexing
Improvement of Messenger View
Several Language and Code Style Improvements
CLI Installer Fixes and Improvements
Fix SVG Display in Media Manager List View
Enhanced Error Handling in Public Folder Installation
Correction of Notice in Mail Template
Compat-Plugin Loader Addition to API
For a comprehensive list and detailed information, refer to Joomla's official  Joomla 5.0.1 and 4.4.1 announcement.
Discover how Joomla 5.0 can benefit you by exploring the full details on joomla.org/5.
Full upgrade details can be found in the Joomla documentation. We strongly recommend testing the upgrade on a copy of your production site first.
Community Builder Compatibility:
The latest Community Builder 2.9 is fully compatible with Joomla 5.0.1, 4.4.1, and 3.10.14-elts. We encourage all users to upgrade to these latest Joomla versions for improved security and performance.
These updates are considered essential for maintaining a secure Joomla environment, and we recommend that everyone promptly applies these updates.
Renew Your CB Membership and Access Joomla 5-Upgraded Add-Ons
To fully enjoy the benefits of Joomla 5.0 and its compatible add-ons, renew your Joomlapolis membership today. Gain access to the latest add-on nightlies and support our work.
Thank you for your continued support of Joomla and Community Builder.