CB Paid Subscriptions (4.4.0)
Start charging paid subscriptions for users to access your website content. Supports duration based subscriptions, merchandise sales and user donations. Very powerful and flexible solution that supports VAT sales tax, powerful coupon discounting, automated reminder emailing and many more built-in integrations. All inclusive package installs everything for you.
Automate your memberships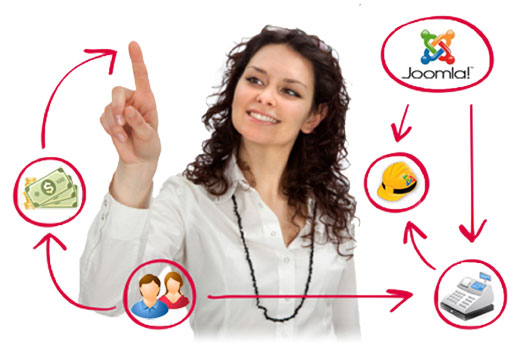 At a Glance
Build your business quick and easy with the best subscriptions membership management solution available for Joomla.
Sit back and collect
Add value to your Joomla CB website by providing subscriber-only content behind a 'paywall' charging for access.
Open Source
Everything you download from Joomapolis - whether free or paid - is GPL v2 licensed. This means that you can install it on all your websites and use it forever.
Learn more
about your GPL v2 privileges.
Content
Secure your sites content through subscriptions. Provide restricted access to downloads, articles, forums, and more! Protect pages on an individual URL basis or even entire components!
Products
Sell access, services, merchandise, and more! Collection donations and monitor your profits as your site grows. Even collect regional taxes!
Marketing
Market your site to your users through scheduled emails or even through promotional discounts to keep your customers coming back for more.
Joomla Integration
Seemless integration with Joomla ACL system lets you configure your subscription plans to automaticall bump subscribers to a new group and remove them when subscription expires. Great way to give your subscribers extra access benefits.
CB Integration
The CB Fields integration plugin lets you alter CB Field values upon subscription activation or expiration. The CB Tabs/Fields Protection plugin lets you protect CB Tabs and/or CB Fields and make them viewable only for specific CBSubs plan subscribers.
GroupJive Integration
The CB GroupJive integration lets you configure your CBSubs plans to add subscribers to specific GroupJive groups when subscription starts and remove them from group when subscription expires.
More Integrations
Integrations are included for Google Analytics, AcyMailing, Piwik, iDev Affiliate and Post Affiliate Pro. You can also execute your own SQL actions or run any URL based script you create to support other integration needs.
Subscriptions
Tranform your website into a true members only environment. Your CB Registration process will propose - free or paid for - membership plans that unlock your website content and whatever extra benefits you offer.
(Make your site work for you with subscriptions. Customize them to meet your pricing and duration needs. Absolute control of your site by protecting content behind subscriptions.)
Payment Gateways
Select the payment organizations that work best for your business. 18 options include: Paypal, Paypal Pro (Payflow Pro and Website Payments Pro), PayPal Advanced (Hosted Checkout), TwoCheckout, Authorize.net, Ogone, PostFinance, Stripe (new) CCBill, WorldPay, AlertPay, CIC Credit Mutual, QuickPay, Moneris, eWay, TeleMoney EasyPay, offline and dummy (for testing).

(With a wide range of payment processors you can use the gateway that fits your needs and your local!)
Need dedicated support?
Subscribe now and have access to our support forums or give our documentation a try!
Cockpit View
Last 7 day payment panel lets you quickly monitor your revenue stream. Clean table view and graph lets you follow your income, transactions, upgrades and registrations. More details and options are available from the Statistics panel area.

(Monitor your payments through the use of statistics and robust backend management.)
Management Panel
Icon buttons are your doorway to powerful administrative areas that let you access details about your subscription business.
Adminsitrative areas include: Settings, Payment Gateways, Plans, Subscriptions, Baskets, Payments, Notifications, Currencies, Statistics, Merchandise, Donations, Import, History Logs, Mailer, Promotions and Sales Tax/VAT.

(Robust backend management for easy configuration!)
Plans
Create as many subscription Plans as needed to maximise your business revenue streams. Plans can be set for Subscriptions, for Donations or for Merchanise purchases.

Extremely flexible settings are available to support fixed duration subscriptions, calendar based (for membership clubs), auto-renewable subscriprion (appropriate payment gateway needed), plan upgrade paths and many more.
Learn more with the Free CBSubs Users Guide
Get your Free CBSubs Paid Subscriptions Manual and learn more about this powerful open-source extension and how it can start making money with your Joomla website.
We love the power and flexibility that CBSubs gives us for managing users' profiles. The learning curve on our first project was time well spent as we are now doing things with Joomla that we didn't think were possible. That's why we are now working on our 10th CBSubs project!
I can't say enough about CBsubs. I have used several of the Joomla subscription extensions and CBsubs is by far the best out there. It integrates with CB perfectly, allows tight control over all of your site, and is easy to use. Created by the CB team means that it is coded correctly! Also, there is plenty of help to be found in the forums. Trust me save yourself some time - use CBsubs.
The CBSubs solution has given me the tools to implement many subscription and eCommerce websites for my clients. Features that would otherwise take me months to implement are easily configured using CBSubs. The solution lets me quickly develop sites I could not develop easily before. Bottom line, my clients are very happy with end product.