CB Code Field (2.0.0)
Lets you execute your PHP code and display results as a CB field. Check box, radio button and dropdown types are supported. You can also chain fields to force re-execution or PHP code when a field value is updated.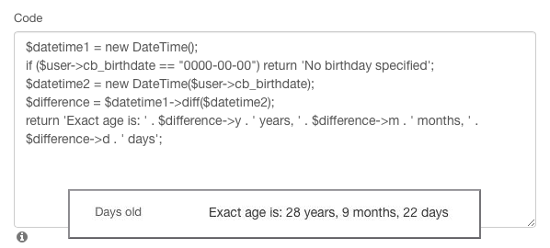 At a Glance
Execute your PHP code and display output as CB Field.
Making Fields do More
Great way to make your CB fields do more using PHP code to make the difference.
New Field Types
Once installed and published, you will see 5 new field types in your CB Field Manager: Code, Code Check Box (Multiple), Code Drop Down (Multi-select), Code Drop Down (Singe-Select) and Code Radio Buttons. These types let you configure the relevant CB Fields to get their options data from a set of PHP code lines you provide.
Need dedicated support?
Subscribe now and have access to our support forums or give our documentation a try!