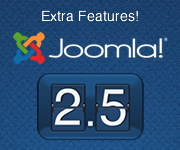 Joomla 2.5 has just been released!
The Community Builder team congratulates the Joomla community for the release of it's latest Long Term Support (LTS) Joomla 2.5.0 package!
New releases are always considered as progress and moving forward. Everyone likes a shining new product and most of our 439,064 members will rush to take this baby for a test-drive.
Looking past the version jump gap from previous Joomla 1.7.3 release (actually Joomla 1.7.4 was just released also) and the hype, the following three questions should most likely be on most people's minds:
What's new in Joomla 2.5 ?
What will happen to previous versions of Joomla ?
How should Community Builder users react ?
Let's tackle these questions and give as much information as possible. This way everyone can make their own educated decisions regarding this release and the way forward for their unique situation.
Joomla 2.5 New Features
You can read a very nice review of Joomla 2.5 new features posted by Andrea Tarr on the Joomla Community portal and quickly see what's cooking here.
An item of interest to CB users is the new "Choose whether Administrator gets Email when new users are created". This was a Joomla 1.7 introduced issue that CB (and CB Juice) users had to work around. You may also find other new features of value depending on your unique use case.
Previous Joomla Versions and Community Builder
Joomla 2.5 is the most recent Long Term Support (LTS) version of Joomla.
Before the Joomla 2.5 release, the last LTS cycle was the Joomla 1.5 series. Actually, Joomla 1.5 is scheduled for end-of-life this April ( to be exact Joomla 1.5 end-of-life is scheduled for April 30th, 2012).
If you are on Joomla 1.7
The Joomla 1.7 series was actually a Short Term Support (STS) cycle that has now (with the release of Joomla 1.5) reached its end-of-life. This means that if you are already on a Joomla 1.7 environment you should consider moving to Joomla 2.5 as soon as possible. As soon as possible means that you should do your homework and make sure that all third party extensions you have installed on your Joomla 1.7 website are Joomla 2.5 ready.
However, since Joomla 1.7.4 was also released today and as addresses various security related items, all Joomla 1.7.x websites should upgrade to Joomla 1.7.4 as soon as possible.
Regarding your Community Builder installation, CB 1.7.1 works just fine on Joomla 1.7 and we will be releasing CB 1.8 (already in beta testing) very soon to ensure Joomla 2.5 compatibility. Recommendation here is to wait for CB 1.8 and upgrade your Joomla 1.7 website to CB 1.8 and then upgrade from Joomla 1.7 to Joomla 2.5 (this is a one-click process in Joomla).
If you are on Joomla 1.5
For those who have Joomla 1.5, the process is somewhat more difficult as the step from 1.5 to 1.7/2.5 is considered as a migration (and not a simple upgrade). Doing your homework is also advised here in order to make sure all your third party extensions that are on your Joomla 1.5 site are also Joomla 2.5 ready.
Regarding your Community Builder installation and the Joomla 1.5 to Joomla 2.5 migration, there is a nice tool called jUpgrade that is "officially" suggested by Joomla for the 1.5 to 1.7/2.5 migration process. The CB Team is currently working with the jUpgrade team to add the necessary support for jUpgrade to handle the migration of any CB 1.8 environment (including GroupJive, CBSubs and all CB installed plugins). We will be announcing progress on this as soon as CB 1.8 is released, so stay tuned.
Relevant Links
Joomla 2.5.0 Release announcement
Joomla! 2.5 Released with Extra Features and Easy Updates
Joomla 2.5 New Features Overview
{mos_sb_discuss:6}