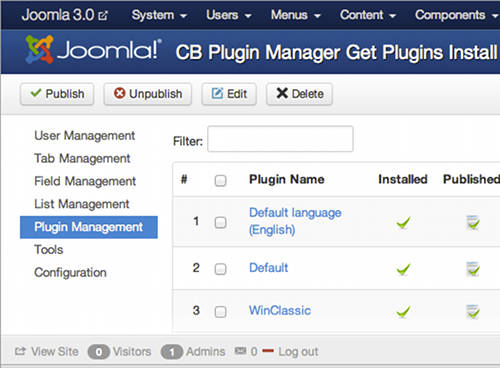 Executive Summary
The arrival of Joomla 3.0 and Community Builder 1.9 RC marks an important and exciting milestone for everyone in the community.
The built-in mobile support, the fresh new Twitter Bootstrap user interface and the jQuery support starts a new era for Joomla. Simply put, the Joomla 3.0 release opens the mobile door for all Joomla websites making them look, feel and operate equally well on all viewing devices (smartphone, tablets and traditional desktops).
Community Builder 1.9 is currently in Release Candidate (RC) status and available to all Professional and Developer members. It works with the new Joomla 3.0 and still maintains compatibility with all Joomla versions including 2.5, 1.5 and even Joomla 1.0. In addition, the new CB Bootstrap template (pro/dev members) also gives Community Builder a nice clean twitter bootstrap look.
And with CB 1.9 RC all our latest add-on, including CBSubs, are now Joomla 3.0 compatible.
Joomla 3.0 is a Short Term Support (STS) release and should be thought of as an early adaptors environment that paves the way for the next Long Term Support (LTS) Joomla 3.5 release scheduled for September 2013.
The new Joomla 3.0 features are great for new websites and Joomla 3.0 looks like a compelling upgrade for existings sites. However, before moving to Joomla 3.0, you should investigate if your extensions and your template are Joomla 3.0 compatible.
Simply put, most existing Joomla 2.5 extensions will not work with Joomla 3.0 and new releases of these extensions are needed.
Understanding Joomla releases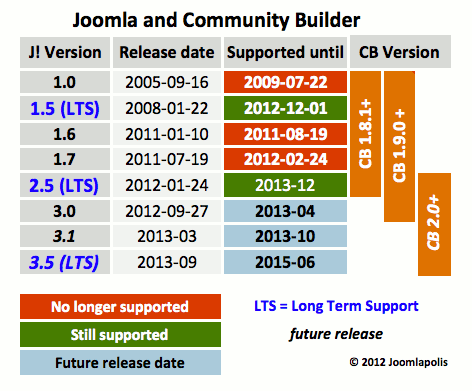 The chart tells the story, but for all practical purposes we can focus on 4 Joomla release series that are listed below in reverse chronological order (newest first):
Joomla 3.0 STS
This is the newest STS series that will pave the way for the next Joomla 3.5 LTS scheduled for September 2013.
Who is this for?

Early adopters wishing to use new built-in and cutting edge features and
Sites with Joomla 3.0 compatible third-party extensions

Joomla 2.5 LTS
This is the current LTS series that will be supported (with security and bug point releases) at least until the end of 2013.
Who is this for?

Stable existing websites or
Newly developed websites that want the longest possible hassle-free support period

Joomla 1.5 LTS
This is the last before Joomla 2.5 LTS release, which is officially supported until December 2012.
Who is this for?

No one ahould develop a new website using Joomla 1.5.
All existing Joomla 1.5 environments should migrate to Joomla 2.5 or to 3.0 (depending on extension compatibility and willingness to follow the 3.X releases).

Joomla 1.0 no longer supported
If you still have a site using Joomla 1.0, you need to migrate to latest Joomla 2.5 or Joomla 3.0 asap as a matter of security. This will probably be much more than a migration as you will most likely want to redo your entire website and also find compatible extensions.
Bottom Line
The Joomla CMS is now properly addressing the very important smart-phone and tablet viewing environments. The new user friendly interface will attract more followers and the jQuery support will help developers port thousands of existing jQuery add-ons.
With such clear benefits, we believe third-party developers will quickly and enthousiatically support Joomla 3.0. Joomlapolis has already adapted all its extensions and CB addons to Joomla 3.0.
So, Joomla 3.0 is the best choice among the open-source CMS products.
Existing Joomla 2.5 websites should not rush to upgrade since many Joomla 2.5 extensions do not work yet on Joomla 3.0.
{mos_sb_discuss:6}