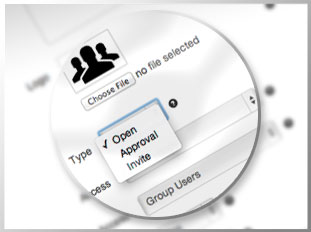 We are proud and excited to release CB GroupJive 2.6 with the new built-in bootstrap template that gives it a fantastic clean look. Your members will enjoy creating their own mini-communiities on your website.
Take a look at our GroupJive Presentation Workflow page and visualize what GroupJive can bring to your website, then download from the Advanced download area as an Advanced, Professional and Developer member.
Each group can be configured with its own wall, photo gallery, video gallery, file sharing and events scheduling areas. GroupJive also has built-in integration for Kunena forum and uddeIM private messaging extensions. This way your groups get messaging functionality and also private discussion forums!
GroupJive 2.6 works great with all versions of Joomla - including the latest Joomla 3.0.2 release!
GroupJive also has built-in integration with the CB Activity stream. Your members will love seeing their group interactions shared on your website activity streams.
This incredibly flexible plugin will open many possibilities for your membership website as it can be configured to support many different use cases.
{mos_sb_discuss:6}