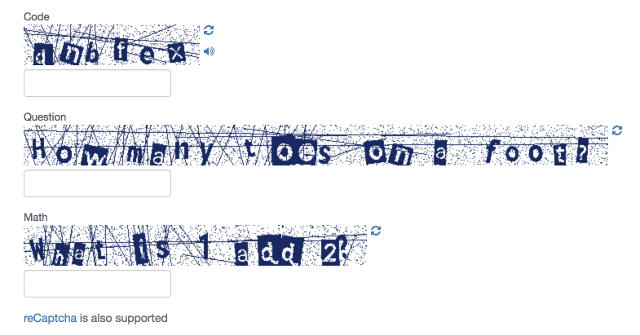 CB AntiSpam 3.1 is here with 7 new features!
Protecting your website forms from spambots just got easier and more powerful.
CB AntiSpam 3.1 has a total of 7 new features, but the 4 most noteworthy ones are:
New math mode that lets you define the complexity and range of the math challenge.
Honeypot mode lets you trick spambots into identifying themselves.
Use Joomla mode to utilize existing Joomla captcha protection.
New Joomla plugin lets you use CB AntiSpam protection in Joomla and third party components.
You can read Kyle's latest blog to learn more about these new features.
There are of course many great existing features that let you automatically block users based on failed attempts (e.g., number of failed logins) or the blocking can be manually imposed by a moderator.
See everything in action on our demo site!