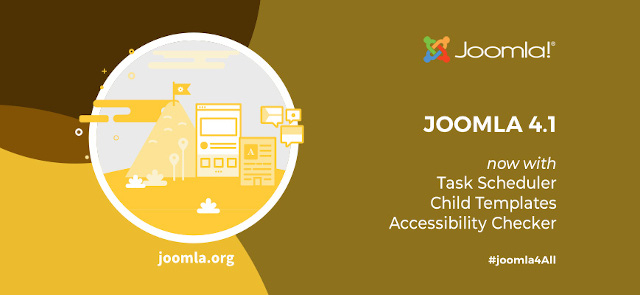 The Joomla! Project is thrilled to announce the features-packed and timely release of Joomla 4.1.
Joomla 4.1 brings new features for bloggers and authors, web designers and extension developers, web agencies or multinationals. The highlights are:
Tasks Scheduler to automate your periodic tasks, e.g. to trigger a CB Auto Action.
Child Templates allow to fine-tune your templates, and still be able to keep the template updated.
Accessibility Checker checks your article's accessibility with a click near the Preview button
Syntax Highlighting in the integrated editor brings clarity to your HTML source view
Inline Help displays at the click of the Toggle Help button in the Joomla Configuration
PHP 8.1 compatibility
This release sets new standards in accessible web design and brings exciting new features, highlighting Joomla's values of inclusiveness, simplicity and security into an even more powerful open-source web platform.
In addition to Joomla 4.1, the project team has also released Joomla 3.10.6, which mainly brings PHP 8.1 compatibilty.
Beat has contributed to Joomla 4.1 and 3.10.6 with  PHP 8.1 compatibility (with actually half of Joomla 3.10.6's pull requests, which were also applied to Joomla 4.1.
Community Builder 2.7.1 (and latest nightly build for Joomla 4.1) and all Joomlapolis add-ons run just fine on these new Joomla releases.
You can learn more about these new features by reading the Joomla 4.1/3.10.6 announcement, and for the accessibility checker, visit the Jooa11y accessibility checker micro-site with more details about this exciting new feature and many examples.