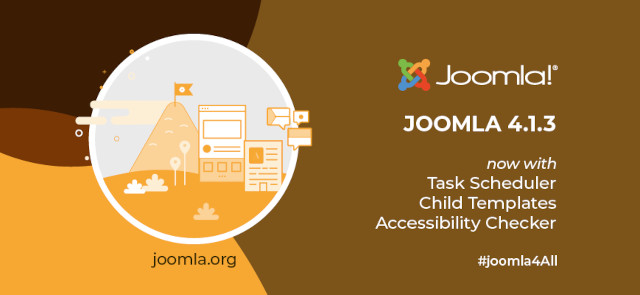 Joomla 4.1.3 and Joomla 3.10.9 are here!
Joomla 4.1.3 and Joomla 3.10.9 have just been released on schedule, 6 weeks after Joomla 4.1.2 and 3.0.8!
Both are smooth maintenance releases for previous Joomla releases.
We are happy to see Joomla continuing to pick up momentum and keep its legendar dependability.
Amd with the Joomla 4.2 alpha 2 preview also already released, the Joomla future is bright!
Joomla 4.1.3 includes 93 improvements and bug-fixes, main ones being:
Some PHP 8.1 improvements, some of them contributed by Beat
Improved SVG upload
Language improvements
Improved child template creation
Fixed scheduler database query
Cassiopeia SCSS variables got the !default flag
Joomla 3.10.8 contains 7 bug-fixes, main ones being:
Corrected date format in Last-Modified http header
Added dedicated string for "I do not agree" over the general JNO
Updated Ca cert files as of 26.04.2022
Improved remind and password request and reset messages
Both Joomla 4.1.3 and 3.10.9 are recommended easy upgrades.
Community Builder 2.7.2 latest build and all Joomlapolis add-ons run just fine on all of these solid new Joomla releases.
You can learn more about these new features by reading the Joomla 4.1.3 and 3.10.9 announcement.