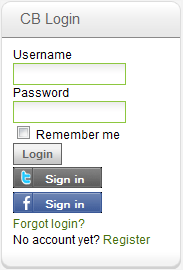 Community Building is about membership and growth on a community site is directly associated with new registrations. Sites that use Facebook connect or Twitter sign-in have experienced an impressive increase in membership growth and there is also some rival discussions regarding which method is better. Well, there is no need for you to chose sides - you can have both methods working for you as of today!
The CB Facebook Connect 1.0 RC2 and CB Twitter Connect 1.0RC authentication plugins have just been released to all CB Documentation subscribers. These authentication plugin packages are released with full detailed documentation (20+ pages each). Subscribers can find plugin quick download links for these plugin in their Doc-Subs profile tab.
Once installed and properly configured, they will enable users logging in and signing in on your CB powered website using their Facebook / Twitter credentials. The Facebook plugin also allows you to selectively synchronize CB fields with Facebook data. See and experience both authentication plugins in action integrating seemlessly on our Joomla 1.5.15 / CB 1.2.2 / CBSubs 1.0.3 demo site.
If you are not a CB Documentation subscriber, this is your chance to become one and download the full CB detailed documentation (recently updated for CB 1.2.2) and 13 CB Team released add-ons for the great value for money price of 25 Euros (for 12 month subscription). A price increase of 10 Euros has been announced, so now is the time to act and save 10 Euros and download all available add-ons (and any new add-ons and upgrades released in the next 12 months).
CB Documentation subscribers can discuss the CB Facebook Connect plugin and the CB Twitter Connect plugin on the new forum areas that have just been created.
If you are not a CB Documentation subscriber and wish to become one, you may by visiting your user profile subscription tab. If you are an existing documentation subscribers you can renew your subscription now (even before expiration) for another 12 months at same low price of 25 Euros - act now and save!