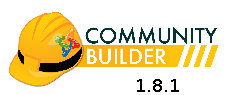 We are proud to release Community Builder 1.8.1 as a free download (as usual) and a highly recommended upgrade for everyone.
If you are using CB on a Joomla 2.5 site you should really upgrade to CB 1.8.1 and to Joomla 2.5.6. Yesterday's Joomla 2.5.5 security release also introduced new features and new bugs which are now already fixed with today's Joomla 2.5.6 release. Joomla 2.5.5 also broke quite a few third-party extensions, including CB 1.8.
So we decided to quickly release CB 1.8.1 that now works with Joomla 2.5.6 (and all other Joomla versions) and also fixes many CB 1.8 identified issues.
Thus, CB 1.8.1 is a recommended update for all CB sites. Joomlapolis is already using CB 1.8.1 as it is our policy to not only provide the highest possible release quality but to also thoroughly test our releases on our websites before public availablility.
We would like to thank our CB Testing Workgroup and specifically adje, bgies, forty, jciconsult, lavsteph, marionetarh, reinhard, sniper_rio, tschersich and thepiston for their valuable help during the last 48 stressful hours.
For a detailed changelog please see forum discussion below.
{mos_sb_discuss:6}