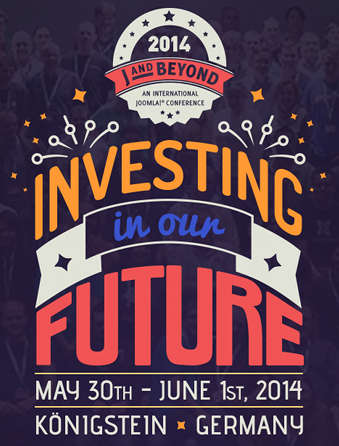 The most awesome Joomla conference is back for its fifth gathering and Joomlapolis is continuing its committed support as the official video sponsor.
JandBeyond 2014 is taking place in Königstein (Near Frankfurt), Germany between May 30th and June 1st.
JandBeyond is much more than an international conference about Joomla – it's really a Joomla family reunion where Joomla fanatics from all over the world will meet, interact and discuss how to make Joomla better.
The JandBeyond experience is unbelievable! Joomla experts, designers, developers and Joomla leaders are ready to interact and discuss making Joomla better. Just read our review of last year's event to see how excited we were.
CB Team members will be present and ready to meet and discuss Community Builder or Joomla with other attendees.
If you need to choose a single Joomla conference to attend, then JandBeyond 2014 is your best deal. Grab your tickets now to get the early-bird discount! This is the best place to meet Joomla developers, designers, expert users and PLT members.
Whether you attend this years event or not, our video sponsoring will allow you to see all the presentations at your convenience at home with your beer or beverage at hand. We are proud to have sponsored the creation and sharing of these videos.