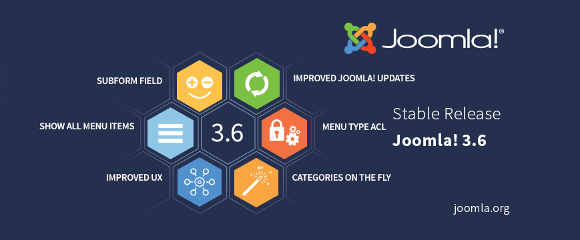 Joomla 3.6 is here
and works fine with
Community Builder
!
-> See our
Joomla 3.6.0 FAQ
for more info and known issues <-
After 2 release candidate rounds - that the CB Team has been testing against our latest Community Builder 2.0.14 - the Joomla project has released its version 3.6 stable package.
This new Joomla release has lots of bug fixes and quite a few - 400 !!! - improvements that make everyone's day to day Joomla usage easier.
Here are siome of the highlighted features:
Joomla update can now do a reinstall for you reverting back to default code.
Usability improvements that help you find things easier and get things done quicker with dropdown task execution.
New Sub form field function for developers to take advantage of.  Developers should read this as nested forms and enhanced repeatable fields.
On the fly category creation will make content editors very happy as they could just create a new item and a new category in the same process.
Menu type ACL gives even more control to fine-tune permissions on backend menus.
New option to show all items from all menus gives you a quick overview of what is displayed where on your website. It has never been easier to spot duplicated links, missing menu items or just get an overview of every menu on your site.
The Joomla team has made a great Joomla 3.6 microsite highlighting all the main features and even more items can be seen in the Joomla 3 FAQ as well as a more technical list on the project's GitHub repository. So, there are many features for you to explore and remember that Community Builder 2.0.14 works fine with this new Joomla release!