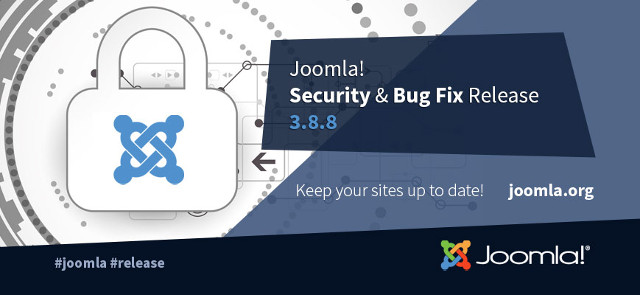 Joomla 3.8.8 is here - a security and bug fixes release!
The Joomla project team has recently released version 3.8.8, a security and bug fixes release.
Community Builder 2.1.4 (latest build) and all Joomlapolis add-ons work just fine with Joomla 3.8.8. You can see everything in action on our demo site.
Joomla 3.8.8 addresses 9 low- and moderate-priority security vulnerabilities / hardenings and fixes over 50 minor bugs.
This is a highly recommended upgrade for all Joomla 3.x series sites. As always, before any Joomla upgrade on your live website, take a backup just in case anything goes wrong.
You can learn more about these security and bug fixes by reading the Joomla 3.8.8 announcement and, important, by visiting the Joomla 3.8.8 release issues wiki (to check for known release issues and important notes before you upgrade).
With new Joomla 3.8.8 installations, a few security- and privacy-related default settings have improved. You may wish to revisit these settings on your existing Joomla sites after upgrading to Joomla 3.8.8, since the Joomla 3.8.8 upgrade of existing sites will not change those settings for your existing site. Here again, visiting the Joomla 3.8.8 release wiki will lead you to the Joomla 3.8.8 notes about the changed default settings page that details which default settings have changed and how to also change them on your existing sites.