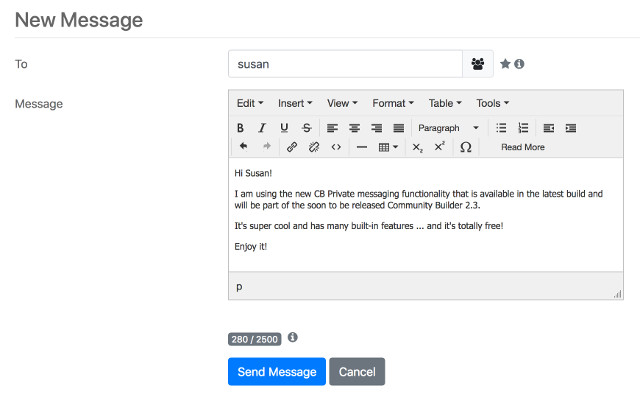 Latest Community Builder build has Private Messaging!
Community Builder has always relied on uddeIM for private messaging and it's built-in CB PMS plugin still supports integration with it.
As mentioned in Kyle's blog, our PMS integration plugin now has an internal mode switch that will turn on the newly developed private messaging functionality now available in the latest Community Builder build and will be part of the soon to be released Community Builder 2.3.
We have already installed our latest CB build on our demo site where you can see this new functionality at work.
Here is a short list of available features:
Internal mode switch to move from uddeIM integration to the new internal mode private messaging
Migration of messages from uddeIM
System messages can be sent by moderators to all users
Messages can be deleted
Envelope icon on profile page with number of unread messages for quick viewing
Send a message to profile owner when visiting a user profile page
Quick select from connections to send a new message
Manage all messages (create, delete, edit, etc.) from Community Builder User Manager in administration area
There are many more built-in features and of course the CB PMS plugin with uddeIM or internal mode will continue to work with other integrations (Kunena, GroupJive, etc.).
And, as this is a new built-in Community Builder feature, it's available -- just like CB -- totally free!