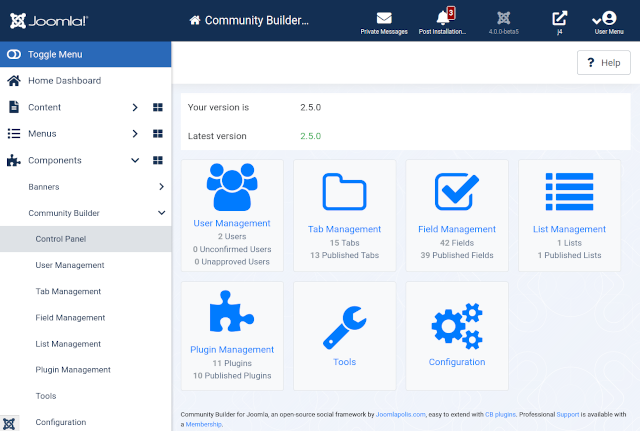 Community Builder 2.5 can be freely downloaded by all registered members
We just released Community Builder 2.5 with 11 new features and 13 bug fixes and it installs and works on the latest Joomla 4 beta 6 release!
The main new features (full CB 2.5 changelog) include:
Joomla 4 compatibility
Upgrade to jQuery 3.5 
Custom option support for Name field
Install from Web improvements
Community Builder 2.5 is a recommended upgrade for all CB sites.
Our demo website has already been updated to Community Builder 2.5, so you can see it in action along will all our Joomlapolis add-ons.
As always, you should first test on a cloned environment before upgrading your production site.
Community Builder 2.5 is Joomla 4 (b6) Compatible!
With the CB 2.5 release, simultaneous support for Joomla 4.0 and Joomla 3.9 is achieved using updated CB libraries. All the latest CB add-ons should work with CB 2.5 on a Joomla 4 b6 environment. The CB Team is still testing everything on Joomla 4 testing environments. Community members testing Joomla 4 / CB compatibility are kindly requested to post any issues or feedback on our forums.