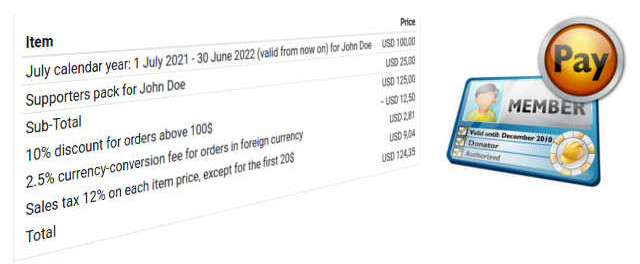 CB Paid Subscriptions (CBSubs) 4.6 comes with 10 new features and 14 minor bug fixes.
In this picture, you can see an example of an order with a staged discount, a markup and time-based sales tax.

CB Paid Subscriptions (CBSubs GPL) 4.6 is a compatibility and maintenance release.
CBSubs 4.6 includes 10 new features, of which the four most important are:
Support for Joomla 4.1 and PHP 8.1.


Possibility to display specific modules, including up-selling and cross-selling information (in content modules) and other modules in all payment phases, like for "Payment basket" display, "Invoicing address", "Payment information entry", "Payment complete" and "Cancel basket" pages. This is done through thanks to new Joomla menu items for CB Paid Subscriptions, leveraging the power of Joomla menus. Joomla menu items allow to display specific modules and content and to perform other menu-dependent actions on corresponding pages.

To use this new feature, simply add new Joomla menu entries of type "Community Builder - plugin", choose plugin "CB Paid Subscriptions" and for "Do" just below, choose one of the new "Internal" pages of CB Paid Subscriptions, listed above, for the menu item. The menu item does not need to be, and in most cases should not be, visible (it can be in a hidden menu). Then create or edit corresponding Joomla modules, and in "Menu assignment" tab, assign the menu items when the module should display. Modules will then automatically display as the user goes through the payment process.

Hint: You can use the CB Content module to display conditional content that can depend on user profile fields, or include one of many substitutions and other possible conditions. This allows for a truly individual checkout experience.

A big Thank you to our community member liaskas for his suggestion 3 weeks ago and to Kyle (krileon) for implementing this great new feature next day, that got immediately available in the nightly releases and now in CBSubs 4.6 stable.
For sites with auto-recurring payments, there are two noteworthy improvements in this release:
A user can now cancel the auto-recurring payment without cancelling the subscription. There is also a new setting in main CBSubs settings, "Display"/"Unsubscribe" tab called `Show "Cancel Auto-recurring Payments" button', which defaults to "Yes", where you can disable this new feature if needed.
From now on, when a user is deleted from the admin area or by our GDPR feature "Delete user account", all auto-recurring payment subscriptions on payment processors are stopped too.
CBSubs 4.6 also fixes 14 minor bugs and improves the compatibility and reliability with the QuickPay payment services provider.
CBSubs 4.6 is a recommended upgrade for all sites, and is very stable, as all changes were released continuously in our nightly releases. It is also a highly recommended upgrade for sites using the QuickPay payment processor.
CBSubs 4.6 requires latest Community Builder 2.7.2 release or later, and thus, as announced since a year, also requires Joomla 3.10+, PHP 7.4+, and MYSQL 5.6+ (or MariaDB 10.x). This will now allow for code modernization and exciting new features and add-ons.
CBSubs 4.6 is fully compatible with Joomla 3.10-4.1, PHP 7.4-8.1 and MySQL 5.6-8.0,
CBSubs 4.6 is available in our Downloads section and simply requires an active subscription to CBSubs or a Developer membership.
CBSubs 4.6 also deprecates the authorize.net and SwissPostFinance payment gateways, as authorize.net AIM and ARB are deprecated not supported anymore by authorize.net, and SwissPostFinance has completely changed its own proprietary payment providing system. Users are invited to consider other supported payment processors. This is a smooth task as CBSubs can handle multiple Payment Service Providers simultaneously.
Full changelog with the over 10 improvements and 20 bugfixes is available, and CBSubs 4.6 is also installed on our demo site. Last but not least, many thanks to Kyle for his help on CBSubs!