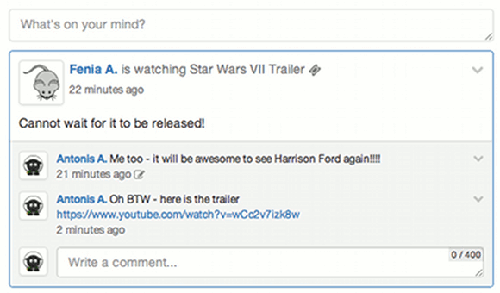 The new CB Activty 3.0 RC1 (stable for live sites) is available for download
by all Professional members.
Let your users go wild and post their feeling-rich status messages and comments using the pixel-perfect fully responsive redesigned interface. This will certainly add an extra wow to your website!
The main features of CB Activity 3.0 RC1 include:
"What's on your mind?" posting
Commenting everywhere
Inline #hashtag support
Inline emotions support (e.g., :smile:)
Inline @username and @name type mentions
Activity URLs automatically converted to clickable links
10 built-in Actions (Feeling, Watching, Reading, ...) and you can add your own!
62 built-in Emotions (smile, laughing, blush, ...) and you can add your own!
Configurable limits everywhere (number of chars per post, comment, ...)
Every profile gets it's own Activity tab, but you can also create Joomla menu items to your activity streams and there is also a Joomla module you can use.
It is dead simple to install and publish and works great out of the box.
You can of course make configuration changes to satisfy your specific use case.
Take a quick look at our CB Activity tutorials to get the hang of things.
CB Activity 3.0 RC1 is given it's release candidate status mainly because we have a number of extra features planned and did not want to push everything out in a big bang fashion.
The roadmap is as follows:
CB Activity 3.0.0 RC2 with new attachments, location and people tagging features
and any identified bug fixes found in RC1
CB Activity 3.0.0 RC3 with activity hiding for specific types and from specific users
and bug fixes
CB Activity 3.0.0 stable with any RC3 needed bug fixes
New releases of other add-ons to take advantage of the new activity API
So in other words, this is a quality release that can be installed on your live sites. It's just not as feature rich as we have planned and thus it is given the RC label.