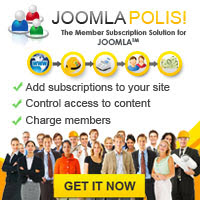 CBSubs 1.3 RC is now available and can be downloaded by all CBSubs customers with up-to-date license maintenance periods. This is a features release with many enhancements and an updated users guide.
Existing CBSubs users should upgrade to get new features and be able to:
move to new Joomla 2.5 environment with CB 1.8 (required)
create automated marketing messages with new Mailer
add one or more of 8 new payment gateways
let users select their currency when paying
get new statistics charts and reporting
CBSubs 1.3 RC is already being used on Joomlapolis and is ready for live site installation (after backup as usual). CB 1.8 RC (required for CBSubs 1.3 RC) is also available from the CBSubs Download area.
Not a CBSubs user yet? You should take a closer look at CBSubs if you want to:
charge subscription fees for access to your Joomla content
manage multi-level membership plans with subscriber privileges
sell products and services and collect donations
give promotion based incentives for your member purchases
use automated marketing messages on your website
CBSubs is the best Paid Subscriptions Membership Management solution for Joomla and it can transform you Joomla website into a powerful subscriptions based environment that will start making money off your content, your services and your electronic goods. It is also ideal for club membership management and magazine subscriptions.
The use cases are infinite and the flexibility incorporated in this solution is incredible. Detailed documentation will guide you through the functionality and even present use case examples to inspire you. If you have any Joomla version website (J 2.5, 1.7, 1.5, 1.0) and want to start charging people to access your content, then CBSubs is your best choice!
Read the CBSubs 1.3 pre-announcement
Read the CBSubs 1.3 Mailer preview
{mos_sb_discuss:6}