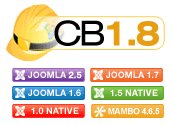 Community Builder 1.8 is now available for free to all Joomlapolis members!
Our entire team (developers, testers and translators) is extremely proud to give our 443897 large community this free and always open-source new Community Builder release.
You can install CB 1.8 on any Joomla version, ranging from Joomla 1.0 up to and including Joomla 2.5.1. And it also continues to support the Mambo CMS (Mambo 4.6.5).
If you want to take advantage of the new Joomla 2.5 ACL group functionality, then upgrading to CB 1.8 is your ticket!
Just to be clear, CB 1.8, our 15+ CB Add-ons, our 16+ Incubator add-ons, CB GroupJive and CBSubs will work just fine on all versions of Joomla!
The cornerstone new feature of Community Builder 1.8 is the updated support for Joomla 2.5 ACL groups as well as user notes support. With this you can configure who can access your Community Builder administration areas and you can also specify who can view what using new Joomla 2.5 Viewing Access Levels in your CB Tabs and CB Plugins.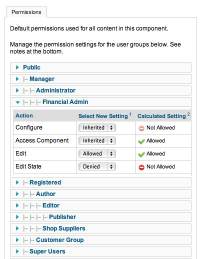 With this new functionality on a CB 1.8 / Joomla 2.5.1 website you can:
Let backend users sdminister CB Users without the need for superadmin privileges.
Use the same Joomla User Manager Options permissions on CB User Manager area.
Decide who sees which CB Tabs/Plugins based on Joomla 2.5 viewing access levels!
New Joomla 2.5 Viewing Access Levels are now respected in CB Tab and CB Plugin Manager.
Configure privileges to CB Configuration administrative area using Joomla ACL permissions.
CB Configuration area now has an Options icon for Joomla permissions management settings.
Upgrading from earlier CB versions can be as simple as just installing over your existing setup! Follow the included documentation to upgrade or install.

You will now see our universal Joomla sticker on all our Joomlapolis product pages. Simply put this sticker means that all our latest packages will install and operate on any Joomla environment! The guess-work is over - everything you download today from Joomlapolis will work on any Joomla environment you choose!
If you are already on Joomla 2.5.1, then you can just install CB 1.8 and any extra Joomlapolis add-on as everything is Joomla 2.5 compatible.
If you are on Joomla 1.6 or 1.7, then you can install or upgrade to CB 1.8 and then upgrade to the latest Joomla 2.5.1. CB 1.8 will continue to work just fine in the new environment.
Are you planning to migrate your website from Joomla 1.5 to Joomla 2.5? The good news is that the jUpgrade script with the help of Kyle (aka krileon) has been greatly improved to handle the migration of all your CB related installed elements: core Community Builder (component and modules), CB Add-ons, Incubator add-ons, CB GroupJive, CBSubs and Joomlapolis templates!
And of course all CB issues have been fixed (please join discussion below to see full change log) in CB 1.8 and the release is - as always - stable and robust with the top level quality you have always experienced and expect from Joomlapolis. We are already using CB 1.8 on Joomlapolis!
Our translation teams are quickly preparing new CB 1.8 compatible language plugins. If you want to help out with a translation, please post your availability in the relevant language forum area and the appropriate translation team manager will contact you.
Finally, we would like to thank all our supporters:
CB Core team
WorkGroup testers
Without this continued support Community Builder would not be possible and would not be free as in beer and free as in freedom!
{mos_sb_discuss:6}