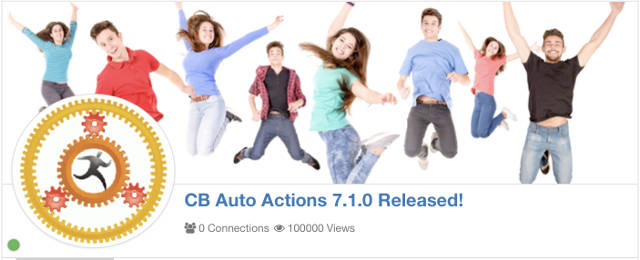 CB Auto Actions 7.1 is here!
CB Auto Actions 7.1 is here with 16 new features and 9 bug fixes!
Now with a total of 70 built-in system actions you can kickstart your CB Activity automation feed and of course create your own workflow automations.
If you are not familiar with what CB Auto Actions is about take a look at our great CB Auto Actions videos. Even with the video tutorials it is difficult to explain what exactly this tool is about and do it justice.
CB Auto Actions is the answer to questions like: "I wish I could do ABC with Community Builder and Joomla, but I am not a developer". Well, this is exactly where CB Auto Actions steps up to the task and lets you configure instead of code.
Kyle has already blogged about the CB Auto Actions 7.1 and from the 16 new feetures (see discussion thread for change log) here is our favorites shortlist:
Notification System Actions for CB Activity events let you configure notification message for new activity stream items
Multi-user parsing performance improvements speeds up auto actions configured to act on multiple user objects
Three new user parsing parameters let you quickly configure actions to act on all connected users, moderators or custom user id lists
We have already updated our demo site with this new release.