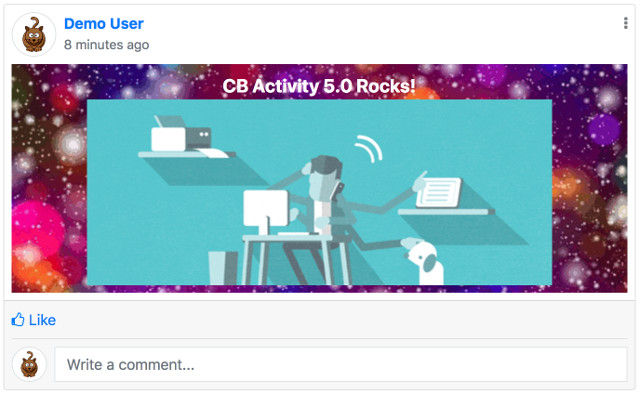 CB Activity 5.0 released and will rock you!
CB Activity 5.0 has been released and its A-W-E-S-O-M-E !!!
Kyle has been blogging about the new features and performance improvements, but blogging is not seeing and you can see it in action on our demo site.
The new features list in CB Activity 5.0 includes:
Themes can now be added to your activity posts (includes background styling, text styling, etc.)
Giphy powered animated gifs Reactions are now supported when posting
Emotes now accessible using popup image selector (instead of having to remember the smiley short code)
Action autocompletion now helps you quickly get your message streaming (e.g., you type Feeling and system proposes happy, blessed, loved, sad, etc.)
Modal windows for Likes, Follows and Tags has been redesigned and now has a canvas layout
Filtering has been added to streams letting you filter by assets and users. This way you can configure an activity stream that only shows CB Groupjive or your Connections activities.
For more detailed feature descriptions, changelog and cool screenshots you can read Kyle's blog. For a hands on live experience, you can visit our demo site.