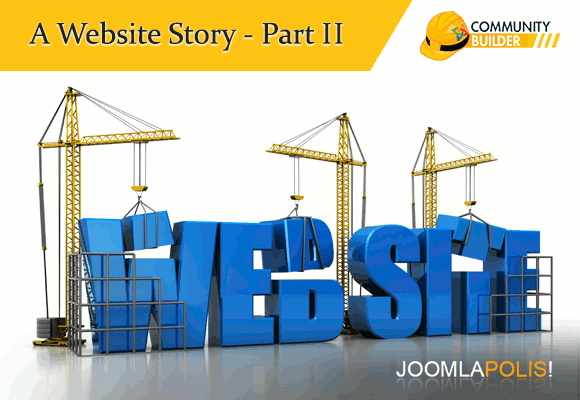 Continuing where we left off, you have your Joomla website in place - with great content -  and Community Builder configured to handle the registration process and the profile pages of your community. All your members get their own profile page where they can update their data when needed. You have also created a number of user lists with searching enabled to let your users find others with similar interests.
From experience with other social netwrking sites (aka Facebook) you know that people should be able to hook-up with each other (social friends).
Back to the CB Primer Book you go and find Chapter 9 Working with Connections and start reading. Aha, Connections is the term used to describe this user hook-up. You read the chapter and watch the great #24 tutorial - and you quickly get this functionality configured on your site. You notice that connections can be bidirectional or unidirectional - but for know you decide to keep things simple. Bidirectional it is - if I am connected to someone, that someone is also connected with me. You have a test user configured and you establish a connection to test out the process. Email notification is sent, user receiving the connection request approves it and the connection is set and recorded in the new Connections tab.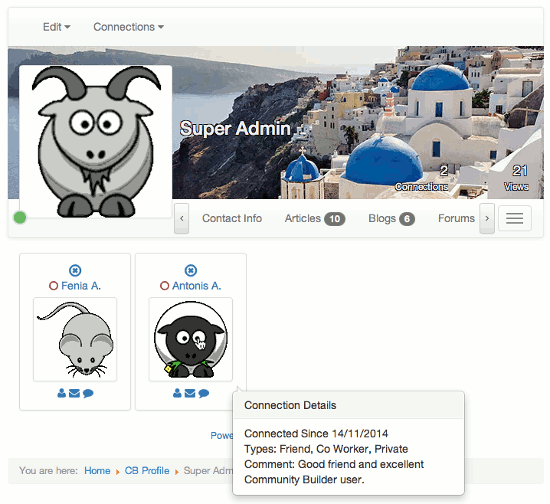 Wow, that's cool you say.
As you were reading the CB Primer Book, you noticed that in Chapter 8 Working with Plugins there is a discussion about integration with a Private Messaging extension called uddeIM. "Hmm, why not you say .." and quickly read up on it and download it and get it configured and integrated. Another cool video - tutorial #21 - helps you in this process and you also quickly add new messages notification to your CB Login module.
Now you have a better way for your users to communicate with each other - directly on your site.
This is cool you think. I hope users can quickly take advantage of this new functionality. "Hmm, maybe I should create a new article describing Connections and Private Messaging". Yup, that is the way to go. So, back to Joomla to create new content. Great screenshots are taken and embedded in your awesome tutorials - this way your users will not have to experiment. All they need to do is read the new tutorials.
You scratch your head and ask yourself - "How can I let people now about this functionality and the great tutorials I created?"
Back to the CB Primer Book and to Chapter 7 Working with CB User Management where you find the Mass Mailer functionality. And of course you find another great video tutorial #38 to guide you through this task. This is exactly what I need you think - wow these guys have thought of everything!
So you quickly create your mass mailing message - add links to your new Joomla tutorial articles and bombs away!
And suddenly you realize: "Wow, and all of this is still FREE!!!".
Discuss this article in the forums (0 replies).