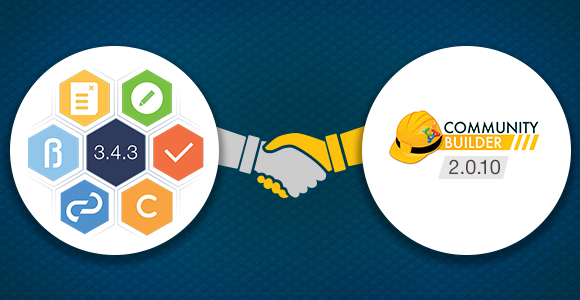 Joomla 3.4.3 was released last week and we have been testing it with our internal build of the just released Community Builder 2.0.10 and ... they are great together!
Simply put, we recommend upgrading to these new releases.
The Joomla 3.4.3 announcement came only a few days after the project's 3.4.2 release quickly addressing some buggers that slipped through. Joomla community gets an A for addressing these issues.
During this process we have been fixing CB 2.0.9 issues and also verifying that everything still works great with the latest Joomla versions.
Community Builder 2.0.10 is available and it has 3 new features and it also fixes 16 bugs (see forum discussion for full changelog).
All CB 2.0+ websites should upgrade to latest CB 2.0.10. Such an upgrade is a simple install over (precautionary backup always recommended) as all previous settings are kept.
CB 1.9.1 websites should also upgrade to CB 2.0.10 following the process described in video #30 of our CB 2.0 video tutorial series.
The CB Primer Book has also been updated as well as the CB 2.0 Add-on compatibility chart.