CB Activity (5.0.0)
Adds interactive walls where users can share their thoughts and happenings and engage in online discussions through comments. There is also a CB Activity module available to display stream in Joomla module. Combined with
CB Auto Actions
(separate CB plugin) to automatically push profile updates and forum posts to wall.
Participation chain reaction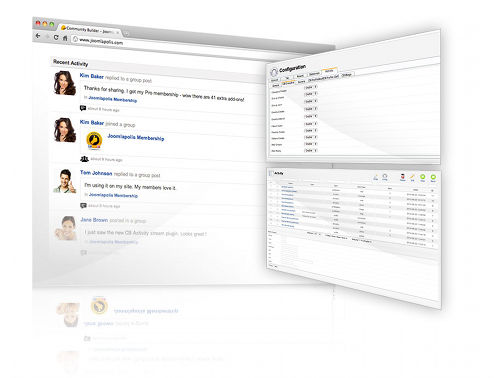 At a Glance
Display your user website activities on interactive walls with comments, mentions and emotions.
Making noise
Increase user participation and motivate communication to keep your users continuously engaged.
Open Source
Everything you download from Joomapolis - whether free or paid - is GPL v2 licensed. This means that you can install it on all your websites and use it forever.
Learn more
about your GPL v2 privileges.
Secure
Quality and security comes by design. Best practice coding and peer reviews help us produce top notch secure code for your websites. Community Builder is one of the most secure scripts available for Joomla.
Huge Community
We have been here for over 10 years and still growing. The 500+ thousand Joomlapolis users comprise the largest extension community for Joomla. Community Builder powering over 8 million websites worldwide.
Sharing is Good
Let your users share their happenings. feelings, emotions, locations and meet-ups. Great way to stimulate participation letting users comment directly in activity stream. Smiley icons are available to let people spice up their comments. Tags, mentions and Google mamp powered locations are also supported.
Need dedicated support?
Subscribe now and have access to our support forums or give our documentation a try!