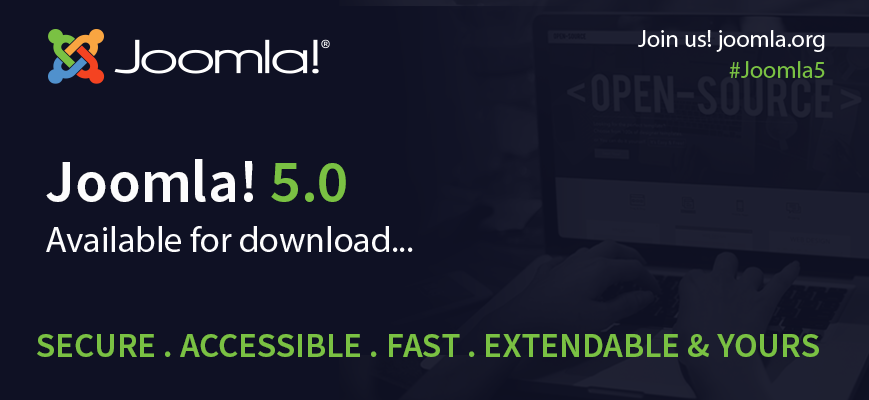 🎉 Joomla 5.0 is released and it's awesome!! 🥳
Joomla 5.0 and Joomla 4.4: A New Era Begins
Secure, Accessible, Fast, Extendable - Unleash the Power of Joomla 5.0!
Today is a momentous day for the Joomla! Project and its global community. After two years of dedicated work, discussions, code sprints, and relentless bug squashing, we're thrilled by the release of Joomla 5.0, a major milestone in Joomla's history, alongside Joomla 4.4.
Joomla 5.0: An Upgrade, No More Migrations
Joomla 5.0 brings a wealth of new features, security enhancements, and a remarkable boost in performance. Under the hood, every aspect has been meticulously redesigned and optimized, harnessing the latest server technologies. It's a platform designed to grow with you, whether you're an individual blogger, a nonprofit organization, a web agency, a multinational corporation, or working for a government.
Transitioning from Joomla 4.4.x to Joomla 5.x is now a straightforward upgrade, akin to any minor version upgrade, eliminating the need for complex migrations.
Discover Joomla 5.0's Key Highlights
Improved User Experience: Guided Tours have been massively improved and many new Joomla tours have been added to Joomla 5.0. Joomla 5.0 also introduces a dark mode for administrators and the new Joomla modal window for select buttons, as well as many small improvements, promising a more refined experience.
Boosted website speed: Joomla 5.0 includes enhancements in web asset caching, automatic source code optimization with phpcs, and cleaner code base, resulting in a remarkably faster, smoother, and more efficient platform. Several scheduled tasks have been moved to scheduler plugins, for optimal performance.
Enhanced search engine optimization (SEO): Automatic activation of Schema.org data for organization and site names brings Joomla to new SEO heights, out of the box.
The latest HTML editor: The new TinyMCE editor version 6.7 offers many refinements, in particular additional images alignments.
Media Management: AVIF support in the media manager and the ability to exclude archived content from smart search indexing improve media handling capabilities.
Menu Sorting: Joomla 5.0 empowers you to sort your menu the way you want.
Modern Technologies: Internal code restructuring and cleanliness focuses on using modern APIs, transitioning from older APIs, removing obsolete ES5 support for efficient operation and includes added JS Import map support for Web Asset Manager. Every library has been updated to latest standards.
PHP & Bootstrap Updates: Improved compatibility with PHP 8+ with a minimum set at PHP 8.1 and MySQL 8.0.13/MariaDB 10.4, and an update to Bootstrap 5.3.2 keep Joomla contemporary.
Enhanced Security: Security improvements include migrating events to their classes and removing obsolete Recaptcha plugins.
Extensions Compatibility: Most modern Joomla 3.10 and 4 extensions should run just fine in Joomla 5.0, with the introduction of a core Compatiblity plugin, moving legacy code support into a single place for added performance and easy native compatibility tests.
Find out how Joomla 5.0 can benefit you by exploring the full details on joomla.org/5.
Upgrade to Joomla 5.0
Good news for Joomla 4.4.x users - it's an upgrade, not a migration. Joomla 4 extensions that have kept pace with Joomla's latest code will work seamlessly in Joomla 5. Most others can function with the new Behavior - Backward Compatibility Plugin enabled.
Joomla recommends to upgrade a copy of your site and check it out first. You may probably want to update or restyle your Joomla template just after the upgrade.
Full upgrade details can be found in the Joomla documentation. We too recommend strongly testing the upgrade on a copy of your production site first.
Why Rush? Joomla 4.4 Supported for 2 More Years
No need to rush; Joomla 4.4 will be supported for two more years, ensuring your site's security. Many extensions have already prepared Joomla 5 versions, making the transition smooth and painless.
Why Not Rush? Boost your site speed, SEO and user experience!
However, you should definitely consider upgrading to Joomla 4.4 now and make plans for the imminent transition to Joomla 5.0. This proactive step will not only enhance your site's visibility on search engines and improve its ranking but also elevate your users' experience through enhanced usability and speed. Additionally, reducing the consumption of server resources for page rendering is not only beneficial for your users, but also contributes positively to the environment and the climate.
What About Joomla 4.4?
Joomla 4.4 focuses on providing a very smooth upgrade path, by not introducing new features, except the upgrade tester. It is thus a safe and mandatory step in your upgrade to Joomla 5.0.
Behind the curtains, Joomla 4.4's automated build tests have been massively extended, going from only 17 automated application tests to over 400, with thousands of simulated clicks and tested replies. Same is being added to Joomla 5.0. This will bring Joomla's already legendary stability to unseen levels. This allows smooth upgrades in full confidence. This an additional reason why we can already recommend upgrades from Joomla 4.3.4 to 4.4.0.
What About Community Builder?
Community Builder and all add-on nightly releases have been adapted to run on Joomla 5.0 natively (this means that it runs also with the Joomla Compatibility Plugin disabled). New "stable" releases for CB and all add-ons will be released next week.
CB will now be checking for installed PHP and MySQL/MariaDB versions, and display an information banner if your server runs below PHP 8.1 or MySQL 8.0.13/MariaDB 10.4 versions required for Joomla 5. We plan to increase our minimum PHP and database versions requirements in the future, to align with Joomla's latest ones. Sites also load faster with latest PHP versions, so it's anyway recommended to use latest PHP versions.
Renew Your CB Membership and Access Joomla 5-Upgraded Add-Ons
To fully enjoy the benefits of Joomla 5.0 and its compatible add-ons, renew your Joomlapolis membership today. Get access to the latest add-on nightlies and support our work.
Beyond Joomla 5.0: A Bright Future Awaits
In the making for over two years, Joomla 5.0 has been crafted by hundreds of developers who are also daily Joomla users. It reflects the practical needs of Joomla users, incorporating modernizations and improvements. And the journey doesn't end here - Joomla 5.1 is already in the works and will be released in just six months, promising even more exciting features.
Join Us on This Exciting Journey
Joomla is thriving, expanding, and progressing. Developed with precision, it garners appreciation from governments, NGOs, small and large companies globally, and enjoys the trust of millions of websites, playing a pivotal role in powering approximately 2% of all websites on the Internet. Joomla 5.0, a significant and easy to use release with many well-crafted Guided Tours, is set to boost Joomla's appeal for new websites.
Community Builder and all its add-ons are now primed for Joomla 5.0, and we cordially invite you to embark on this exciting journey with us.
Renew your membership today to access the latest add-on nightlies and support our work.
Ugrade your website to Joomla 4.4 and your extensions to their latest versions. Ensure all your extensions are compatible with Joomla 4 and 5.
Make a copy of your website, then upgrade the copy to Joomla 5 following the Joomla upgrade documentation carefully. Document each step meticulously.
If all looks good, safeguard your main website with a backup, and replicate the same steps on your main site.
Stay tuned for next week's article on Community Builder's release, as we continue to support and empower your Joomla experience.