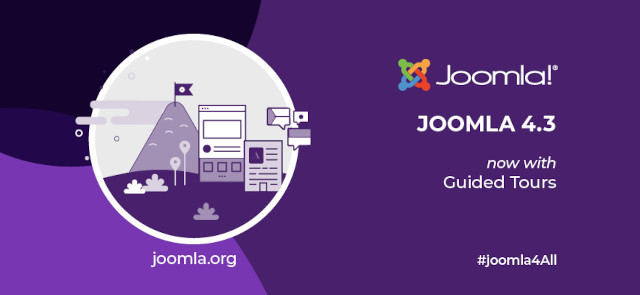 Joomla 4.3 is here with Guided Tours!
Joomla 4.3 introduced Guided Tours, a game-changing feature!
Guided Tours is now the first top menu in the Joomla administration, guiding new users in creating their first article, adding a category, or menu. This interactive walkthrough redefines how users engage with Joomla 4.3, offering step-by-step guidance for seamless onboarding, personalized learning, and enhanced satisfaction. We believe that by spotlighting features and empowering new users, guided tours are set to redefine how users interact with Joomla 4.3+ and will significantly boost Joomla's uptake.
Simplified Onboarding
Newcomers can navigate Joomla 4.3 effortlessly with guided tours. Interactive prompts and tooltips provide intuitive step-by-step guidance, reducing the learning curve and boosting confidence.
Contextual Learning
Guided tours provide real-time context, allowing users to learn as they explore. Tailored explanations while using the platform bridge the gap between what users want to do and how to do it, enhancing learning effectiveness.
Empowered Users
With guided tours in Joomla 4.3, new users gain a solid grasp of the platform in record time. They're less likely to need extensive documentation or support, making their Joomla experience smoother and more independent.
Accessibility at the Core
Joomla's commitment to accessibility extends to its guided tours, ensuring that people with disabilities can fully benefit from the feature. Just like the entire Joomla platform, guided tours are designed with inclusivity in mind.
Tailored Experience
Joomla's guided tours aim to cater to diverse expertise levels. Beginners receive comprehensive guidance, while advanced users can skip introductory tours, ensuring personalized assistance as more advanced tours get gradually added.
Create your own Tours
Moreover, you have the possibility to create your own guided tours specific to your site to assist your users' onboarding or to help them discover and use new site feature.
Joomla 4.3's Additional Features
Joomla 4.3 brings many more new features, including a revamped Media Manager, workflow improvements, enhanced tags, custom fields, and menus. It also upgrades to Bootstrap version 5.2 and enhances support for PHP 8.2.
Stay Up to Date with Joomla 4.3.4
Yesterday, Joomla released version 4.3.4, a maintenance release that improves and fixes minor bugs. We encourage all users to stay up to date to ensure they have the best experience with Joomla.
In Summary

We think that Guided Tours will redefine user interaction in Joomla 4 by simplifying onboarding, enabling contextual learning, and unveiling hidden features. This feature exemplifies Joomla's commitment to a user-centric approach that enhances engagement and success, all while driving an increased uptake of the Joomla platform.
About Joomla 4.3.4 and Community Builder
Joomla is currently the most accessible CMS available. It stands as a robust and mature product powering millions of websites. Unlike a lot of other CMSes, its code-base is clean, solid, and inherently secure from the ground up.
Community Builder 2.8 latest build and all Joomlapolis add-ons run just fine on this solid new Joomla 4.3.4 release, as can be seen on our Community Builder and add-ons Demo Site.
To help you discover or present Joomla to your friends or customers, the Joomla marketing team has prepared a Joomla 4 brochure, in 15 languages, that you can download here.
Learning more
You can find additional information about these new features by reading the Joomla 4.3 announcement and the Joomla Magazine article about Guided Tours.
Contributing back
Finally, Joomla welcomes help to enhance and add guided tours to the core.
And if you are eager to contribute to the open-source and free CB, we would also warmly welcome a contribution with a set of Guided Tours for Community Builder!.