Time for an update of what has been going on. I've been a bit silent in this for awhile, but I think it's time for a reveal. The Quickstart package is coming back. For those of you who have been with us for awhile may already know what it is and for those that haven't in short it's a package that includes CB and our various plugins bundled together and pre-configured for a basic social site. Check out the details below!
This is going to be a long post as I'll be including a lot of screenshots for you to see how things are coming together. The basic idea behind the quickstart package is for you to launch new sites as quickly as possible for basic social interaction needs. The quickstart package can and will work on existing sites, but it will force its bare minimum configuration on your site which could cause unknown results so it's recommended to only use it on new installs.
First up is the profile is being customized out of the box with your basic social network integrations. This ranges from activity stream, to connections, to groups, to galleries and more. Take a look below.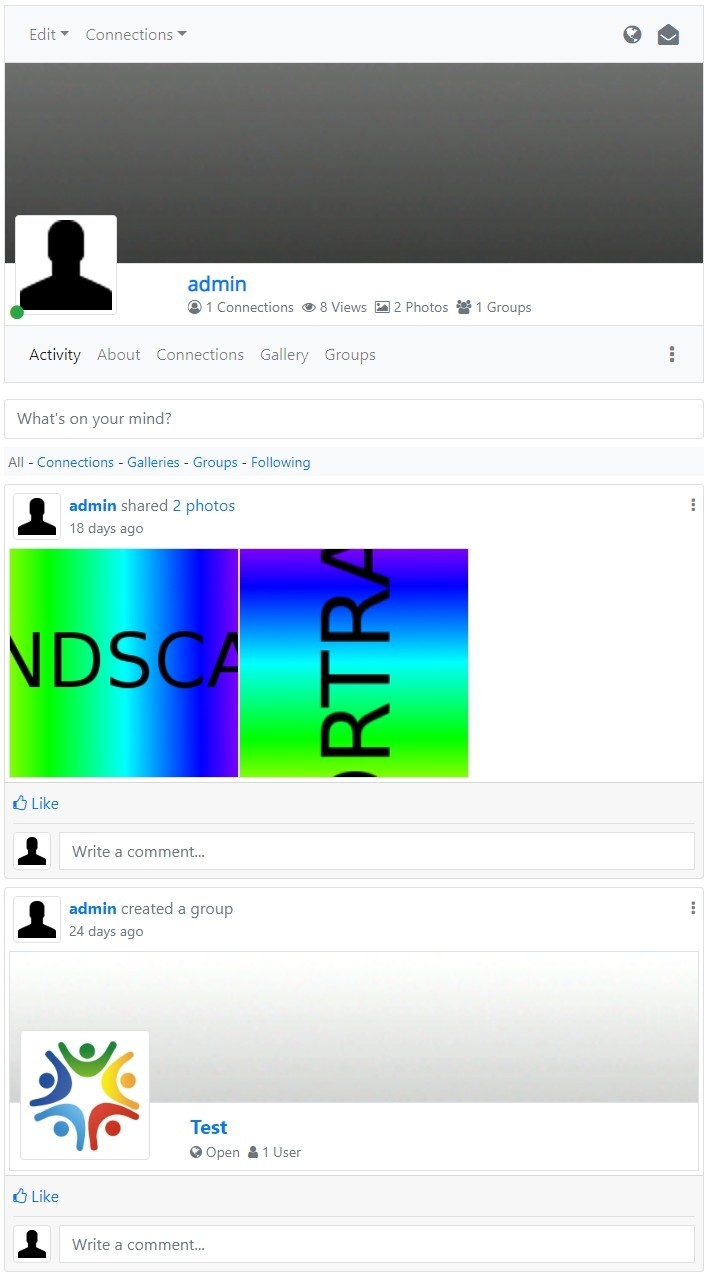 This is a pretty familiar setup with CB Activity installed, but some things have been configured for you like stream filters. The next great feature is basic social fields have been provided. These range from the users name, gender, location, and other contact details. This currently displays as follows under the About tab.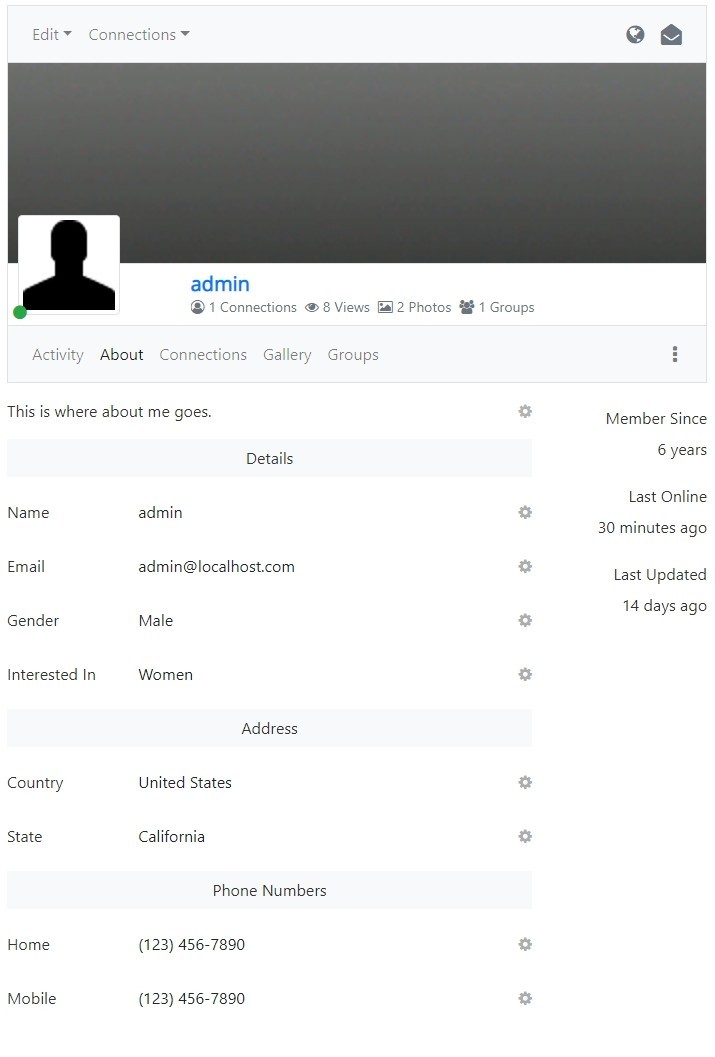 All of these fields are optional and all of them have ajax editing as well as privacy controls configured for you. Many of them use advanced usages like conditions and field grouping to provide some pretty advanced functionality. This can also of course all be edited from profile edit as shown below.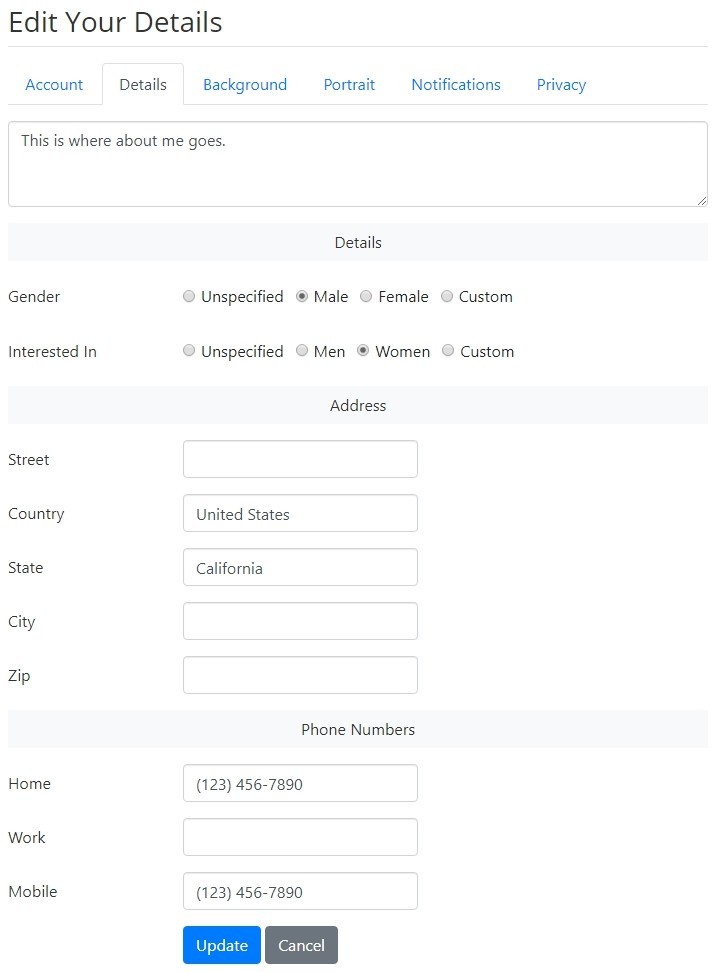 Lets jump right into something you may notice. Take a look at Gender and Interested In. I've put, literally, hours into studying how to design these to be modern and inclusive. First they're entirely optional and second we want to avoid strictly binary roles. So with this in mind we've taken a page from Facebook and other major social networks to allow you to specify custom gender and interests. Both custom usages allow for as many identities as you feel are necessary. The below is how the Custom usage is used.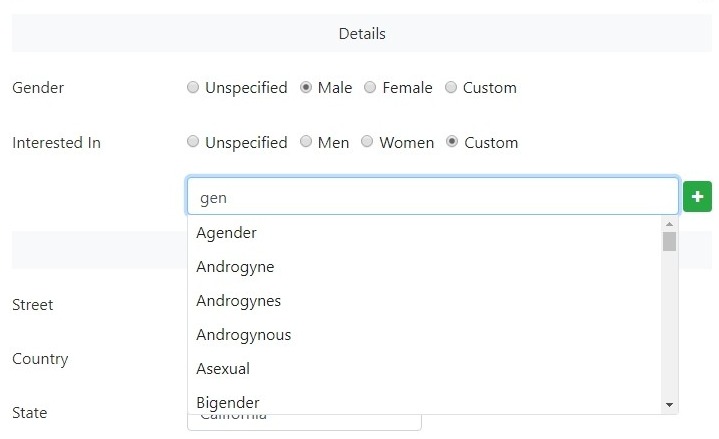 Notice the auto complete when you start typing. It will provide identity hinting for over 70 different identities (we'll increase this as more are identified). Note that these are just suggestions. The field is a text field so you can freely type whatever you need. We want to strive to be inclusive of everyone and I think for any great social network you should consider doing the same. With that said if you don't feel comfortable with these fields simply unpublish them.
Next up is several notifications powered by CB Auto Actions have already been enabled along with several other system actions. These notification system actions will optionally check for a fields value to determine if the user should be notified or not. All the notifications are logged to CB Activity (it does not send PM or email!). The user has full control of those notifications as shown below.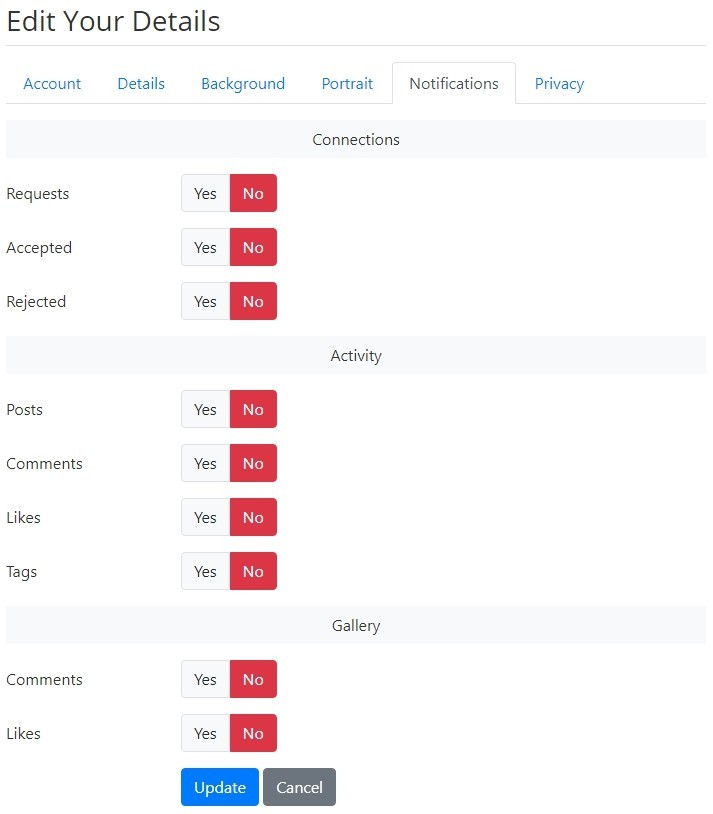 More will be added as found necessary. The final major feature I'm quite proud of all the hard work that was put into it is privacy controls. Privacy is critical to giving your users peace of mind. They should absolutely have control over their data. So that's exactly what has been done; for everything! Take a look below.

Your profile, your fields, and the various tabs on it are all controlled by your users. They can determine who sees what comfortably.
It doesn't stop there. There's many other features that have also been enabled. For example in CB GroupJive you won't be using GJ Photos, GJ Videos, GJ Files, or GJ Wall at all. Instead you'll be using CB Activity and CB Gallery to provide that functionality. With improvements to CB Auto Actions each group also has notification parameters for the stream and gallery notifications!
Connections have also been preconfigured with multiple predefined connection types to make it easier for your users to label their connections.
Anywhere that a language string is needed we automatically generate and save a language override for you to the Default language plugin. This allows the quickstart package to be translated entirely. Custom CSS rules are automatically added to the Default template using CSS overrides as well. All of which can be modified to fit your needs even further.
We're not done yet, but we're certainly on the home stretch. If there's anything you feel that all social sites would benefit from (we've got to keep it generic!) then please let us know so we can consider it for the quickstart package. There are plans to support a quickstart package that includes CBSubs as well which will have some basic membership plans preconfigured to get you started.