The latest Community Builder release brings some amazing new features from customizable profile layouts to Joomla fields to new substitutions! Check out the details below.
First up is CB profiles now support a Home and Other layout. The Home layout is visible when a user visits their own profile. The Other layout is visible when a user views another user. This allows splitting the experience to be more useful to a user when they're viewing themselves.
With that let me introduce you to the new layouts feature. This can be found within your CB template parameters by editing your template in CB > Plugin Management. You'll then find the below.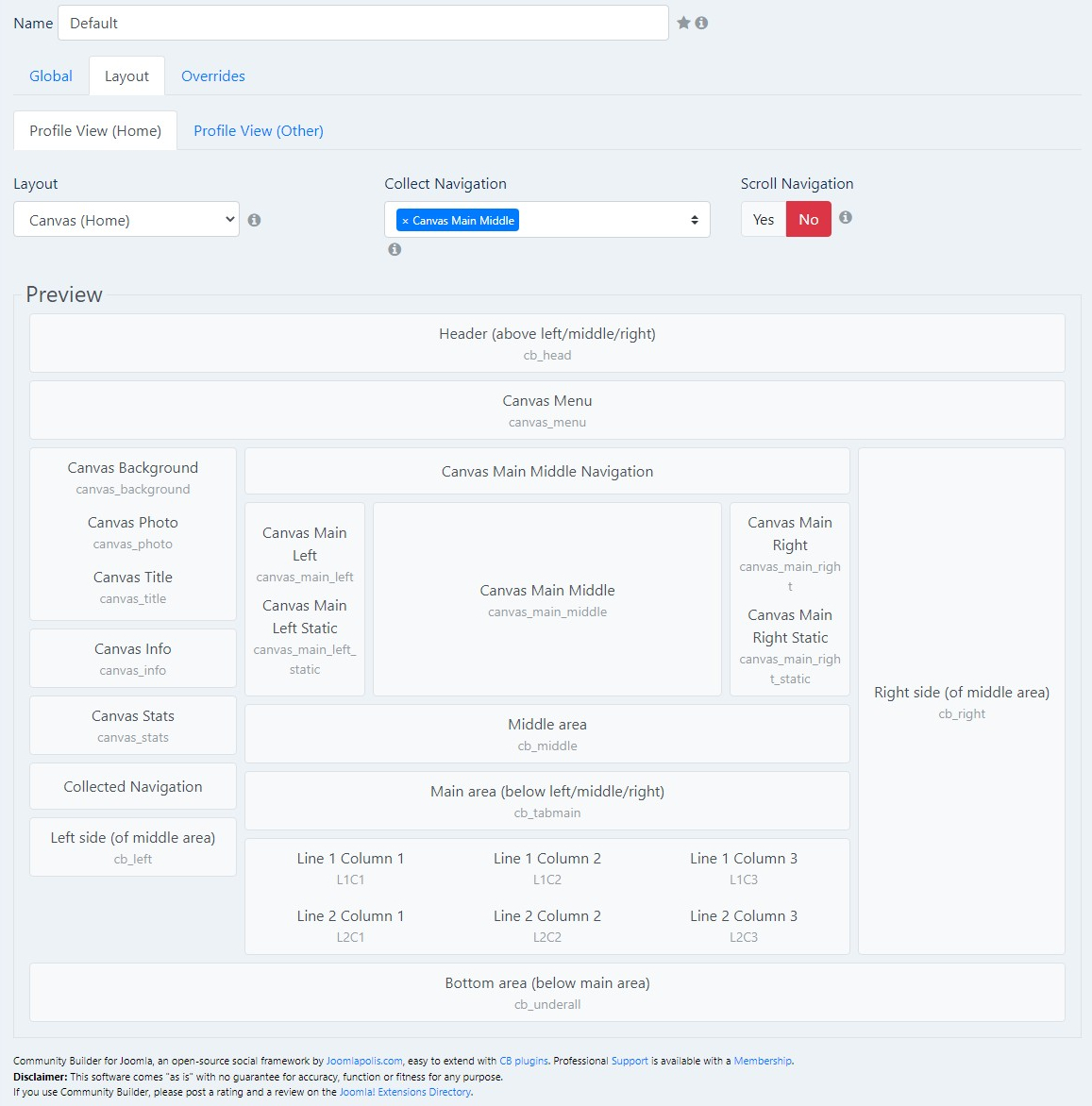 From here you can configure your Home and Other layouts. In addition to that we provide a nice preview of where exactly tabs will be placed. Some great new features of this is our navigation collection feature. This lets us collect tab navigations and place them anywhere! We've also implemented an option to force tab content to scroll into view when using tab navigation.
Now lets take a look at the new Canvas (Home) layout. This adjusts the canvas layout to focus more on the content so a user can interact with their data more comfortable.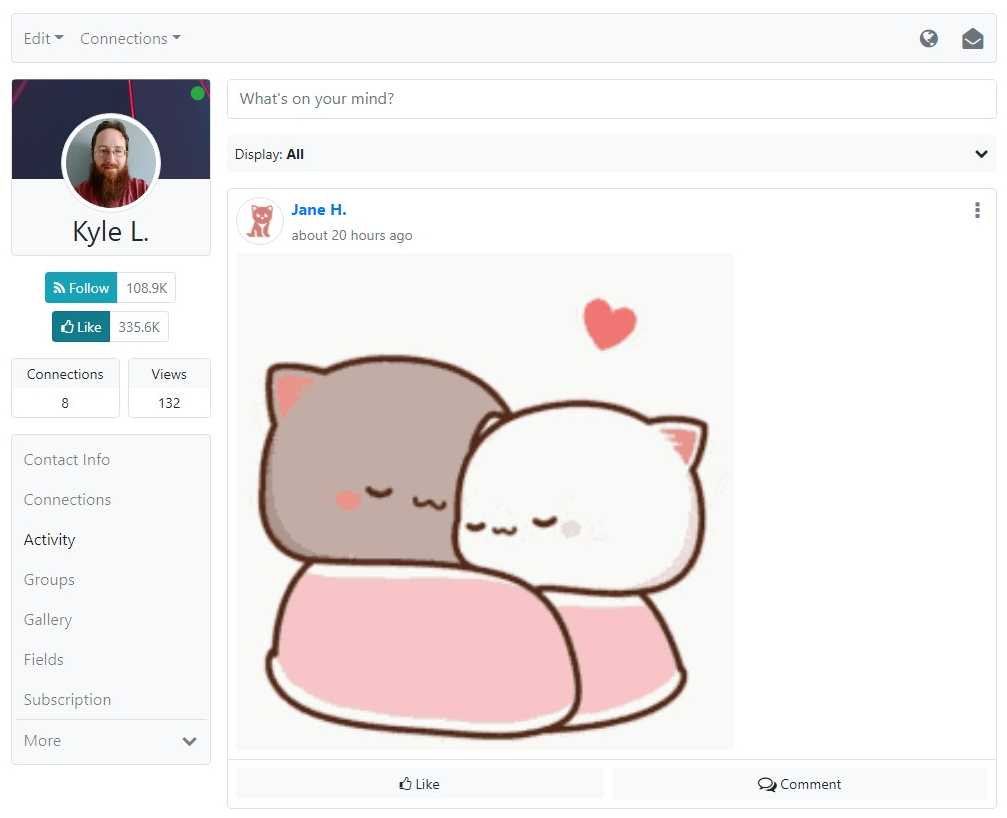 This is utilizing the collect navigation feature to move the navigation to the left. A similar layout has also been added when viewing another user encase you want left aligned navigation. Take a look below!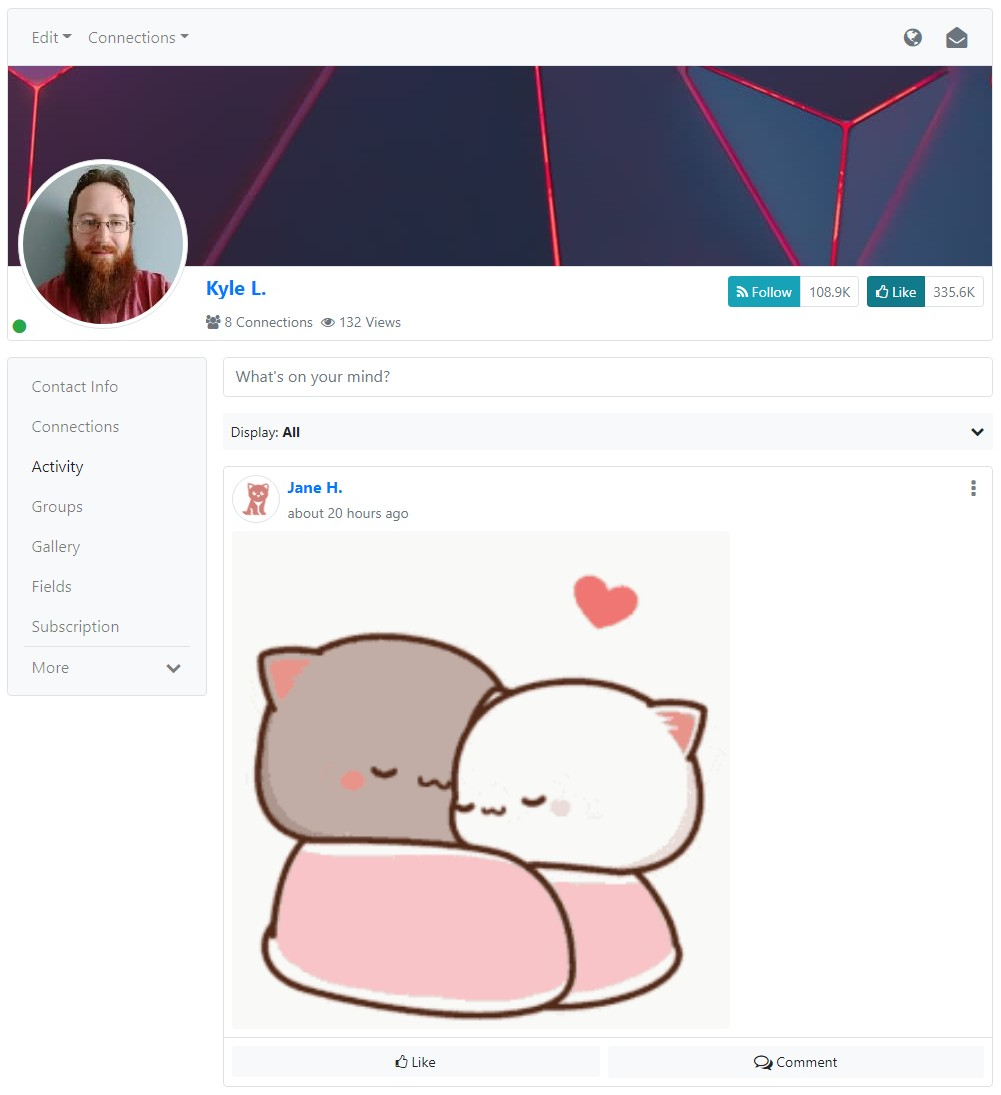 It doesn't stop there. We've included a new layout more tailored to business needs that focuses on the data, is flat, clean, and simple. We've named it Intranet.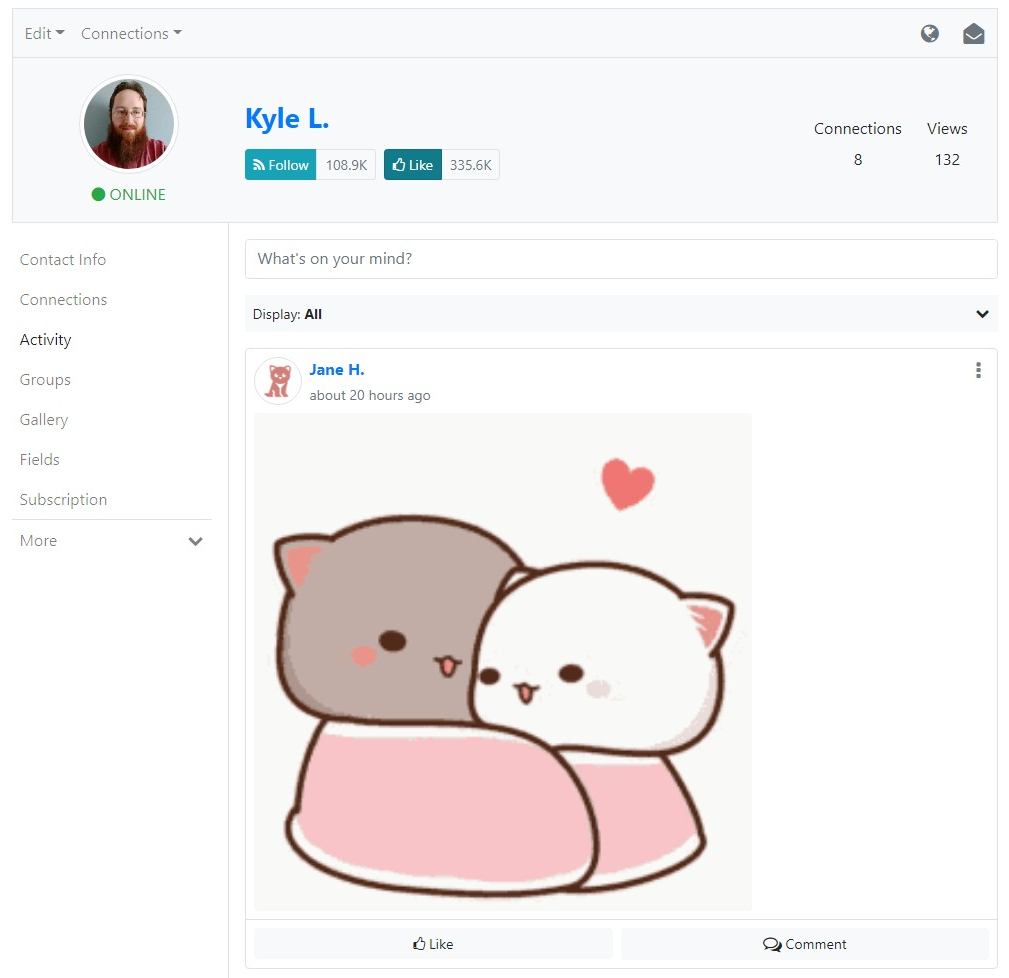 The features just keep rolling in because we're not done yet. In addition to this you can now create your very own layout using HTML, substitutions, and Joomla content plugins.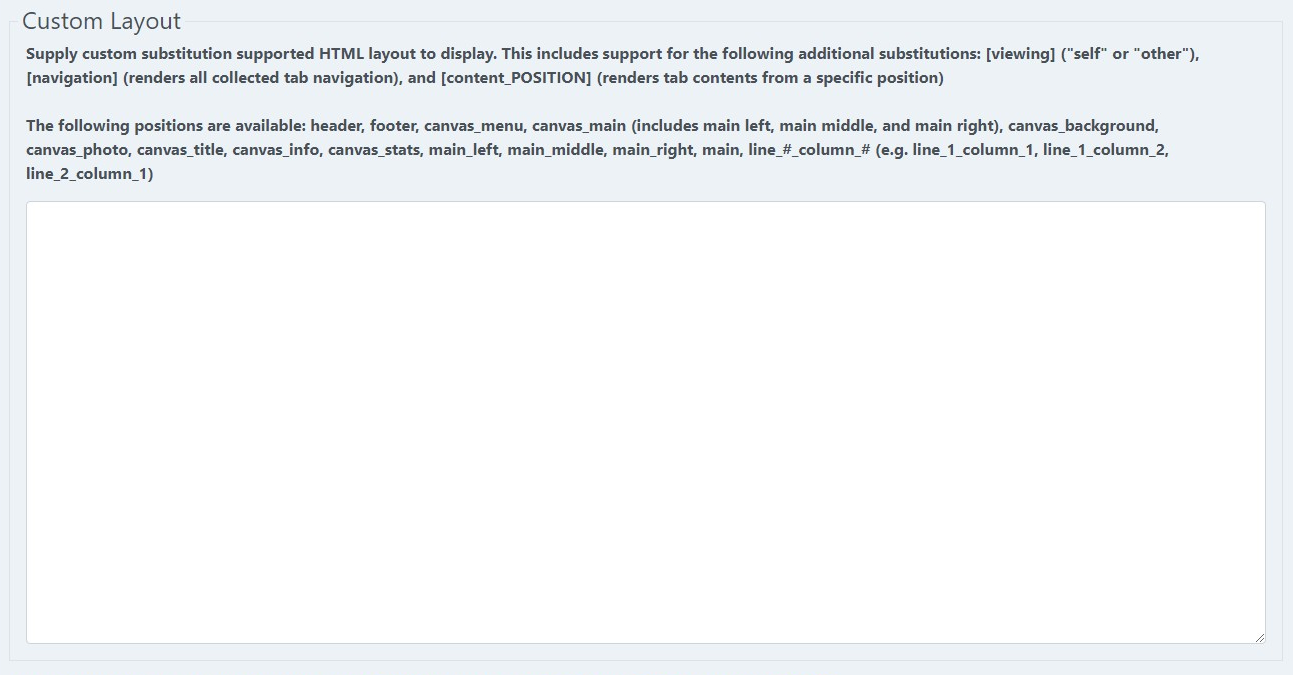 We've also seen a lot of requests to support rendering Joomla user component fields within CB. This is now possible with the included Joomla field type. Note this field type is only available on Joomla 4. Joomla 3 simply lacks the API to properly implement this.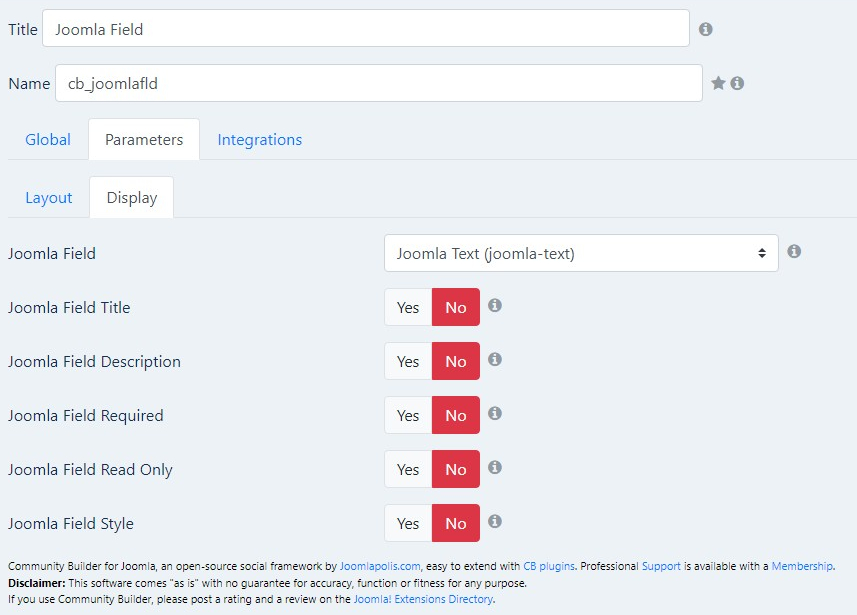 All core Joomla field types have been tested. You can optionally override several parts of the Joomla field with CB field values as well.

Note that Joomla field permissions and access checks are still applied. So for example the Media fieldtype requires media management permissions. The User fieldtype does not have a frontend access so it will not render on frontend. Please note we cannot guarantee compatibility with every 3rd party fieldtype nor can we guarantee these fields will work properly with other integration behavior (e.g. Query Validation).
We're still not done! A new substitution has been added to help with inline translations. You can now translate and render a language string within the middle of other content anywhere substitutions are supported. This is done using the following new substitution.
[cb:translate key="LANGUAGE_KEY_HERE" default="FALLBACK_STRING_HERE" /]
The key should match one for your CB language plugin keys or one of your language override keys. The default parameter is used to output something in the event the language key is missing and is optional. Additionally once the translation is complete substitutions will be applied to the resulting string!
Hope everyone enjoys the new features and can't wait to see what another year of CB will bring!
This functionality has now been extended to profile edit! You can customize your profile edit layout from within your CB template instead of within CB configuration. In addition to this a new Menu layout has been added to display the profile edit tabs as a menu bar (top and left aligned as desired!). It doesn't stop there though. You can now fully customize profile edit using your own HTML in combination with substitutions.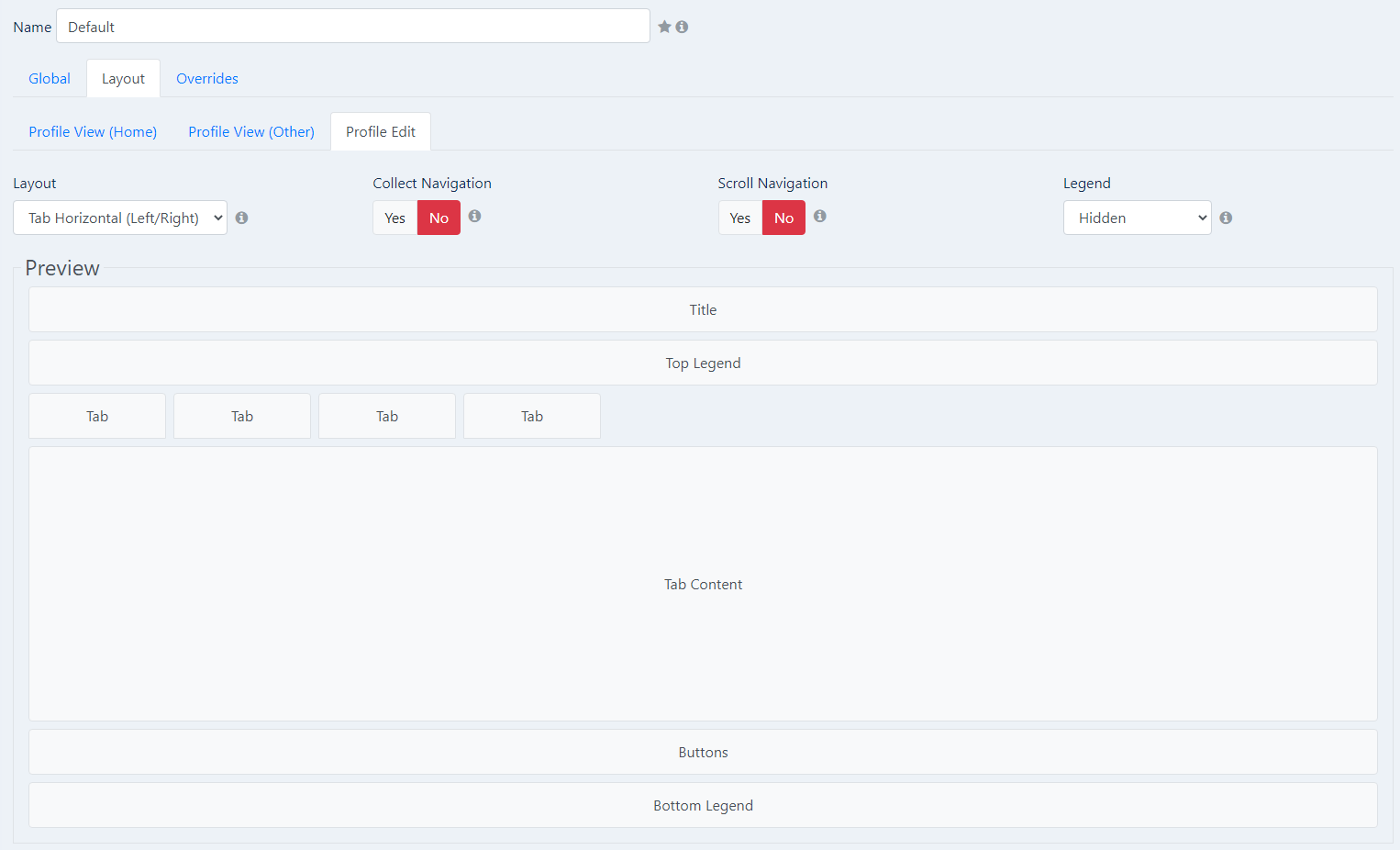 The layout functionality is now officially feature complete. You can now customize your Registration layout from within your CB template. The Menu layout has also been enabled for registration in addition to Custom layouts to provide your own substitution supported HTML layout for registration.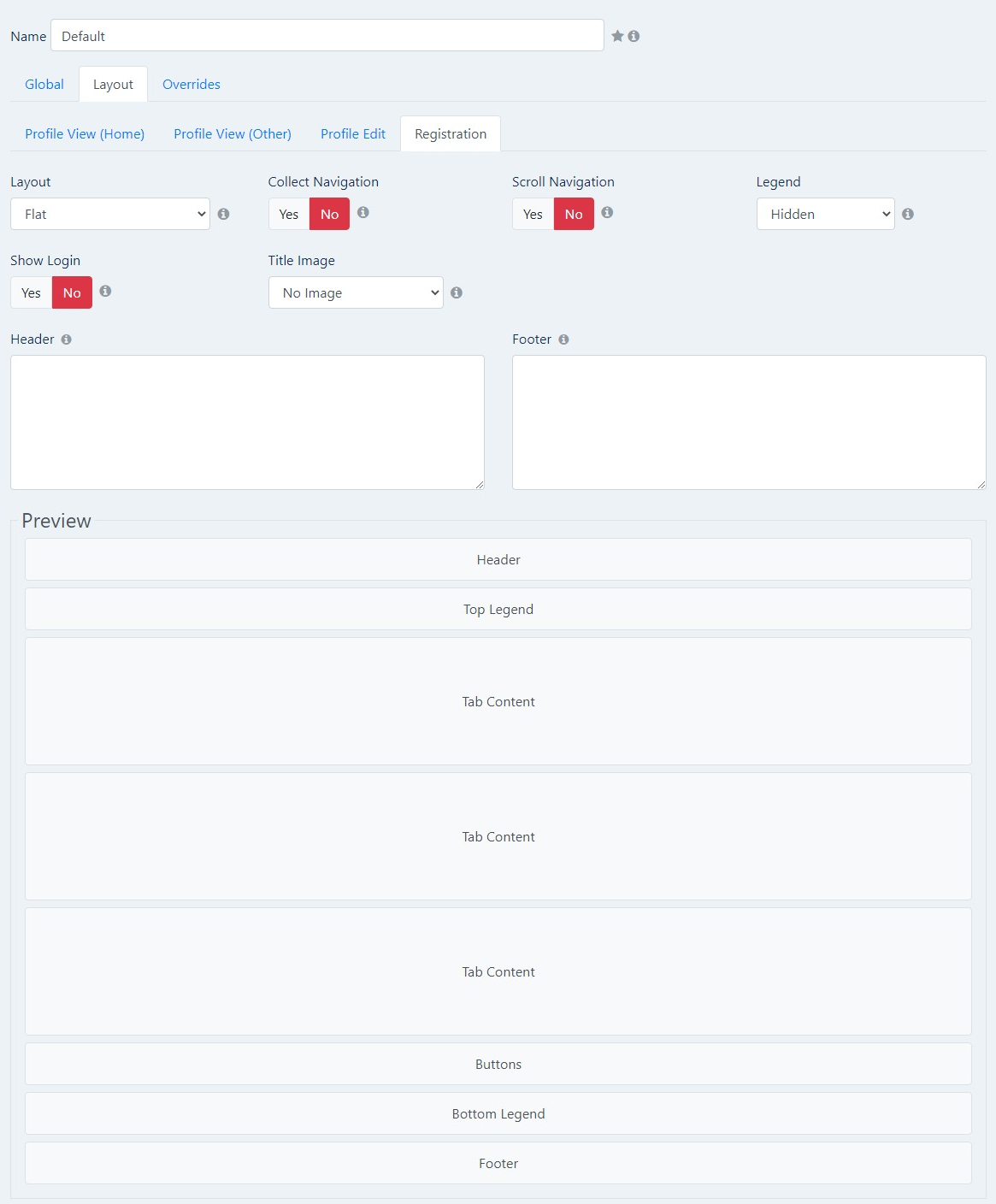 Remaining layout based parameters have also moved to the template configuration. For profile view the main left/middle/right size parameters are now in the template and the registration layout specific parameters (login, canvas, header, and footer) have also moved to the template.