Here was my original message:
We are looking for a solution that would allow guests to register and create an
account with a system similar to a monthly subscription. Each month we are
planning to release a new piece of content in the form of a digital download. If
a visitor pays for that month (or has paid for the year up front) the download
will be available to them when that month starts. If they do not pay or their
payment information is invalid (with automatic subscription) they will not have
access to that download for the month. They could after that month has passed
then pay an additional fee to unlock the previous month's download. The monthly
amount does not accrue each month they miss or chose not to pay, they simply
have to pay more after the month has passed to download that same file. Their
membership is always active, the fee they pay simply activates the ability to
download the file for that month.
Example: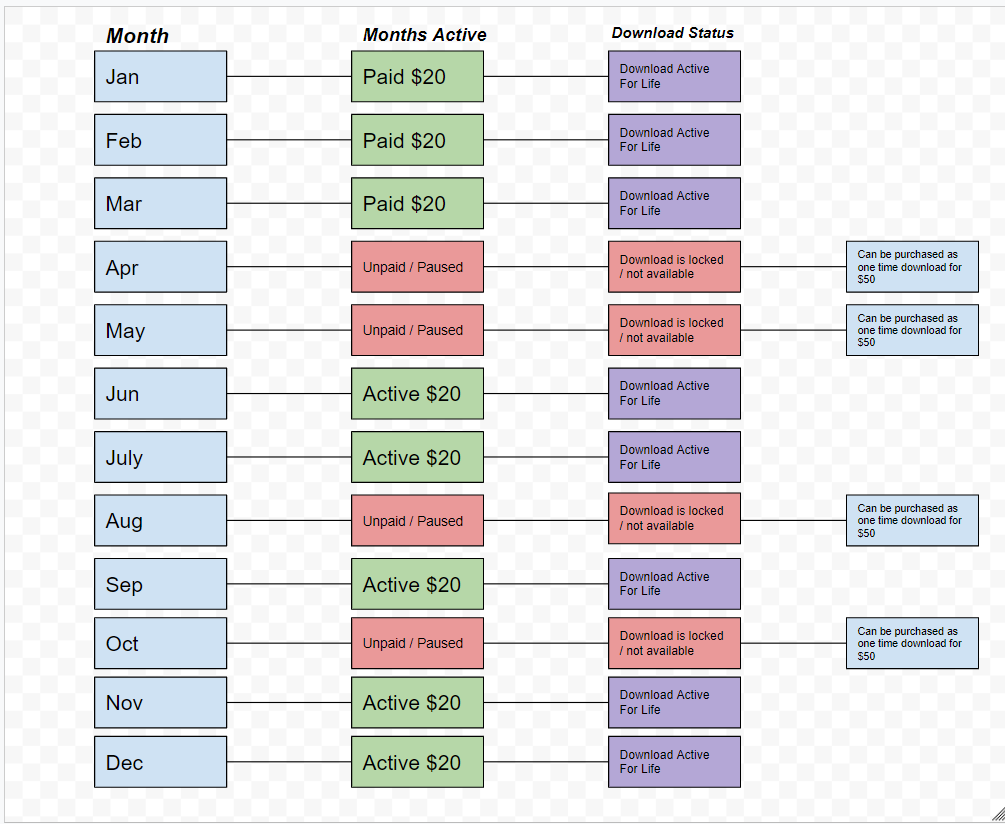 Is this something your software can do? Do you happen to know of any software
that does this or you could develop?
---
Here was the response that suggested that I post in this forum, so I am posting that as well.
Dear Jared,
Thanks for contacting us.
Your question is interesting and its answer could certainly be useful to many other persons.
Just login and click "New Topic" button at the top of our pre-sales forums for any pre-sales question:
www.joomlapolis.com/forum/87-presales
Please avoid putting any external urls in your post, but you can attach images.
Short answer to your question (if you have further questions, please use our pre-sales forum where our specialists can give more precise answers):
CB with CB Paid Subscriptions (
www.joomlapolis.com/addons/cb-paid-subscriptions
) can do most of it, including making sure that people pay for missed periods of time (uninterrupted subscriptions), but the question about having a surcharge for missed periods is an interesting one that we would need some collective wisdom for, that can only be found by asking the question on our forum, so the whole team can see it, discuss it and answer it. Paying just for 1 past not subscribed month, and disallowing access to documents during unpaid period is another thing that I'm unsure if it could be done without a bit of programming or advanced configuration.
But it's an interesting question that would be best discussed further on our forum:
www.joomlapolis.com/forum/87-presales
Best Regards,
Joomlapolis administration
---
So, does anyone know if this software can maintain a users membership if they miss a monthly payment so deny them access to the download for that month but off the download to them after the that month for an additional fee.
See attached image.