CB Privacy has been completely rewritten from the ground up with a new API and more optimized usage. Each privacy control can be different from one another. No more "all or nothing" approach. You can override the privacy rules available, the layout, and even the template on a per privacy selector basis! The API has also been redone in a way to be more generalized and eventually will allow controlling privacy of much more content with the help of CB Auto Actions. Check out some of the new features below!
First up is the new layout functionality. Each privacy control can either be a Tags (current usage), Button, or Icon selector. The new default is Button changed from the previous Tags. This allows much finer control of how the look and feel of your privacy selectors fit into your site.

In addition to button layout a more compact option is available that's a bit more space friendly. It simply displays the icon for the privacy value selected and nothing more. Check it out below.

Have you ever wanted to have a field only let users select between maybe Public, Users, and Private? Now you can! Each privacy selector can override the global parameters on a per usage basis. Feel free to mix and match rules, layouts, and templates however you please.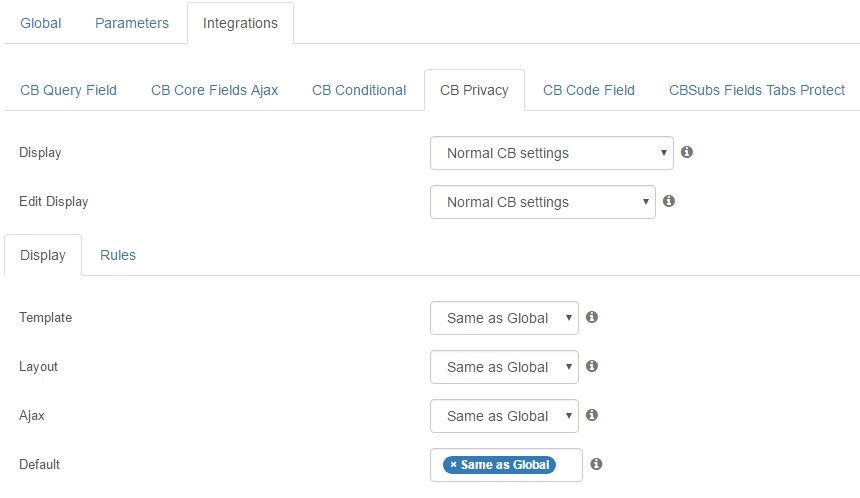 The queries have also been optimized with a single Asset column over the old Type, Subtype, and Item usage. This brings it in line with CB Activity and CB Gallery usages and familiarizes the API across all 3. No more querying for privacy rules on a per usage basis as we now can grab all the rules for a user and cache them in 1 go with a fast optimized query. Additionally with the API improvements we can eventually extend privacy controls to things like CB Gallery to control per-photo privacy for example.
Additionally users who have manually disabled their accounts can now easily re-enable them. This is done simply by logging in at which point they'll be asked if they want to re-enable. Once they click the link they'll be asked to login again to verify, which will re-enable them and log them in.
CB Privacy 5.0.0 should be available by end of this week or beginning of next. Once complete the demo site will also be updated so you can freely try out all the changes.