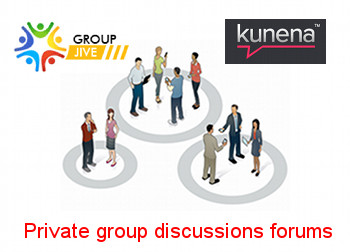 Empowering your community with organic user groups and private forum discussions will boost member participation on your website.
Group members love the ability to privately discuss matters of common interest withing their own group environment. A group wall does not satisfy this need as there is no discussion threading and new unrelated posts will just push relevant posts further down in the wall activity stream.

Private discussion forums for GroupJive group members is just one of the great integrations available between Community Builder based solutions and the Kunena forum extension.
With the supported integration, every GroupJive group is automatically given its own private Kunena forum area that supports discussions between group members.
Non-group members will not see this area when browsing the Kunena forum.
This integration feature is discussed in the Private Group forums with GroupJive and Kunena tutorial in our Free tutorials section.
{mos_sb_discuss:6}