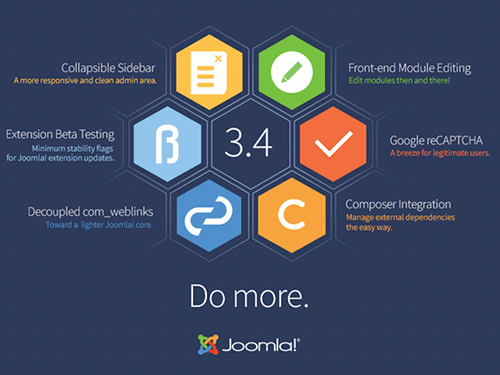 Joomla 3.4 and Community Builder 2.0.7 are ready to help you
do more with your websites.
The Joomla 3.4 release introduces the following key new features:
easier front end editing for your modules
a lighter distribution with the decoupling of weblinks
composer integration to help developers be more productive
improved spam protection with Google new reCaptcha (already supported in CB AntiSpam)
security improvements by implementing UploadShield code which can detect most malicious uploads by examining their filenames and file contents.
Joomla 3.4 is a minor version that preserves compatibility and should in most cases be a simple and easy upgrade.
To upgrade from Joomla 2.5/3.3 to Joomla 3.4 you can use the built-in Joomla update functionality but first make sure that all your installed extensions and templates are compatible. If you are updating form Joomla 2.5 then our Migrating from Joomla 2.5 to Joomla 3 tutorial is a great resource for your upgrade project. Updating from Joomla 3.3 to 3.4 is simple and easy - just like upgrading from any Joomla 3.3.x release to 3.3.x+1. As always, start the process by taking a - just-in-case - full backup
Community Builder 2.0.7 addresses 6 minor identified bugs (see discusson on forum for details), of which one fixes the installation of CB as an upgrade on the new Joomla 3.4 release, which introduced an additional check on the package.
To upgrade to CB 2.0.7 all you need to do is use the Joomla Extensions Update functionality or simply download the CB 2.0.7 package and install. You can do this before or after your Joomla 3.4 upgrade.