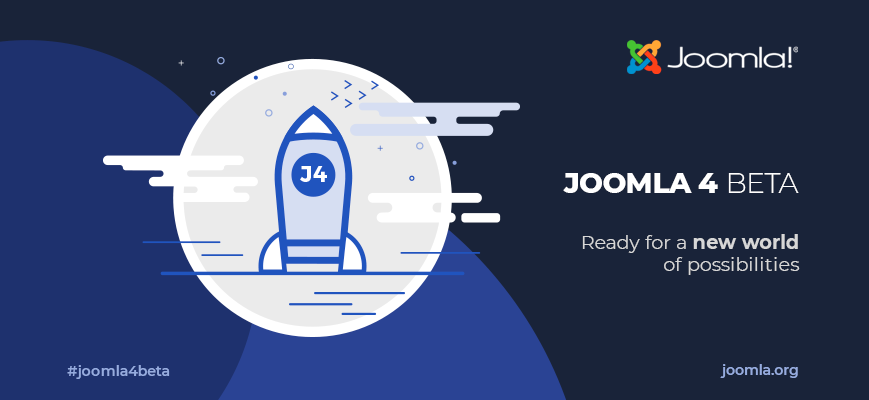 Joomla 4.0 beta 2 is here - and it's awesome!!
We're really thrilled! The second beta of the new Joomla 4.0 just got released, exactly one month after beta 1 with over 200 bug fixes, moving forward with great momentum.
Joomla 4.0 is a major release
Joomla 4 is a huge step forward for the Joomla community and the Web, with a brand new user interface and experience (backend and frontend), that is extremely accessible for everyone (Level AA of WCAG 2.1). A fully rebuilt Media Manager with built-in image editing, a new customizable publishing workflow, customizable HTML Site Mail templates, and much more makes it easier to use, and more powerful!
Under the hood, the newest web techologies will enable robust and innovative applications like never before. The new powerfull and cleanly coded Joomla Framework now includes web services for mobile apps, Internet of things (IoT) automation and allows to make content and applications easily available to other websites. An enhanced events dispatcher, prepared SQL statements, new security features and an expanded CLI round up this superb new Joomla edition.
Our analysis
Our analysis is that Joomla 4 has a huge potential for a rapid growth, as it addresses a very broad range of users, from the quickly installed personal website up to online government services requiring highest security, accessibility and stability standards. Additionally it will simultaneously thrill developers of modern web and mobile apps, web designers needing creative flexibility and efficient configuration interface, and corporate webmasters relying on the power and stability of an established web platform.
Give it a try, Download Joomla 4.0 beta 2, it installs in the blink of an eye with its new user friendly installer, and you will quickly understand why we are so thrilled! Make sure to report to Joomla Isssues tracker any bugs you find and help get Joomla 4.0 stable out quicker. But do not use a Joomla beta release on live sites, as stability and security are still being improved.
Community Builder compatibility plan
Community Builder 2.4 is not yet compatible with Joomla 4.0, but we are starting work on that front. We don't expect any major difficulties in making Community Builder compatible with Joomla 4.0, thanks to CB's CBLib abstraction layer and our AHAWOW XML administration framework, that will require mostly adaptations only in the AHAWOW engine and none in the abstract CB administration interface descriptions. We currently plan to make CB Joomla 4.0-compatible sometime between Joomla 4.0 RC and 4.0 Stable with a smooth upgrade process.
Easy upgrade path from Joomla 3.9 to 4.0
Joomla 4.0 and extensions upgrade process should generally be smooth thanks to a well thought upgrade strategy, as Joomla 3.10 Long Term Support will be released simultaneously with Joomla 4.0, and will be simultaneously API-compatible both with Joomla 3.9 and with Joomla 4.0, allowing to upgrade Joomla 3.9 to 3.10, then extensinos one by one, before upgrading to Joomla 4.0. We expect all major Joomla extensions to also be compatible by Joomla 4.0 stable release, while some smaller ones will need to be replaced. For those, the Joomla 3.10 intermediate upgrade step is a really smart decision.
The new Joomla 4.0 administration dashboard
The new administration dashboard, powered by administration modules, has a fresh modern look and can be configured to your liking.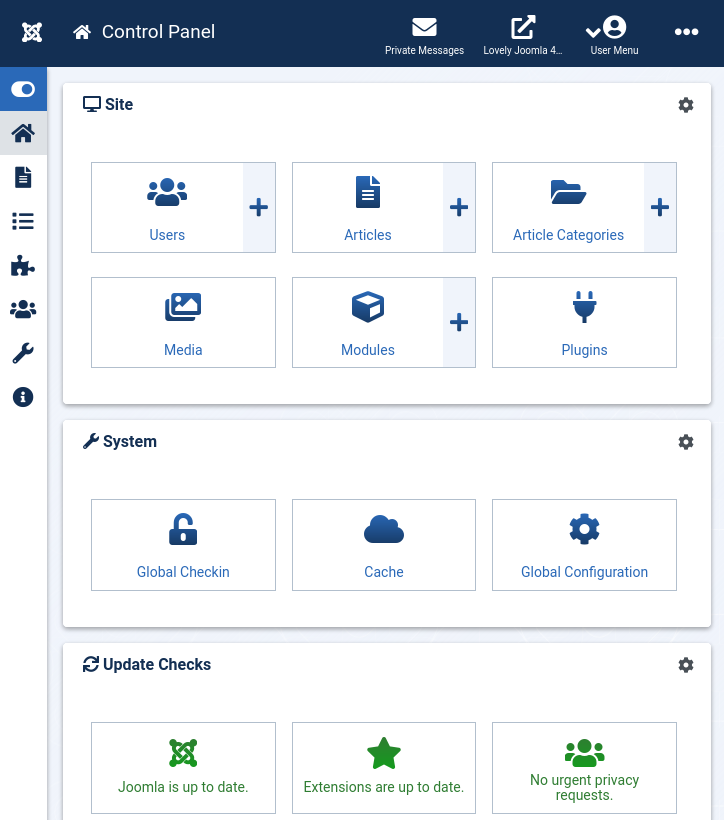 Joomla 4.0 beta 2 administration dashboard