The CB Team has just released CB 1.2.3 which can be downloaded by all logged in users of Joomlapolis.
CB 1.2.3 is mainly a bug fixes release with a few new features and also experimental support for Joomla 1.6 beta 4. The CB 1.2.3 package also has an updated installation document which should be read and followed. For Joomla 1.5.X websites upgrading to CB 1.2.3 is just a matter of installing the CB component and the CB modules right over the old ones (without uninstalling) - please read the installation guide included in the package for instructions.
Also CB 1.2.3 now has Mass Emailing and Advanced filtering embedded in the CB User Manager backend. You can now filter based on any CB field value and use the resulting query set as email address recipients for the Mass Email feature. You can also use any CB field substitutions in the HTML email body to create rich and personalized email content.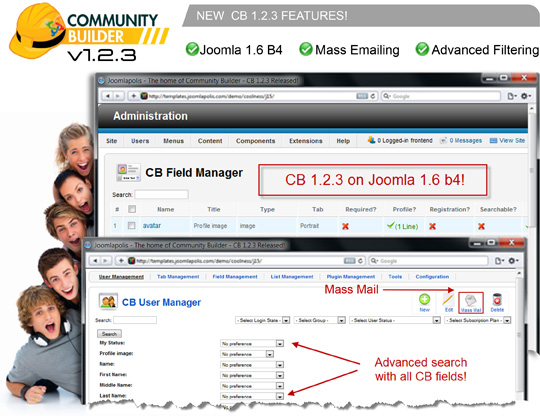 A full change log will be given by Beat in the forum discussion that follows this announcement.
Special thanks must be given to our fellow Joomlapolitan who are on the CB Testing WorkGroup for their assistance in getting this out.
This release now opens the roadmap for many exciting new projects that have been in the works for some time now. Two of these projects to be announced in the following days are: the Incubator forge area and the Translation projects forge area.
Also, with the release of CB 1.2.3 we will now shift gears and continue full speed on our CB 2.0 project. We will be opening up various CB 2.0 related discussion threads to get needed feedback and suggestions regarding CB 2.0.
{mos_sb_discuss:7}