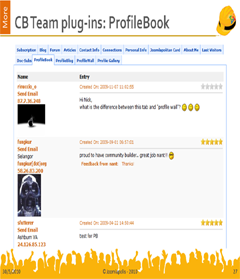 CB Profile Book 1.2 has been released and is available to all Advanced and Professional members. The package contains a CB Plugin and a Joomla 1.6, 1.5 and 1.0 module.
The CB Profile Book when installed on a CB 1.4+ website will work with any Joomla version (1.0.x, 1.5.x or 1.6.x) and gives users a Guestbook tab, a Blog tab and a Wall tab. The Guestbook tab can accept visitor entries and ratings, the Blog tab can be used by the user to publish Blog entries and the Wall tab is a common area where user and visitors can share comments.
The package is available for download from the Advanced Membership Download Area.
{mos_sb_discuss:6}