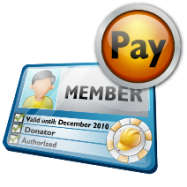 CBSubs 1.2 is now available for download.
Our Paid Subscriptions Membership Management Solution is now even better with many new features and an updated detailed guide that will help you make even more income from your Joomla (1.5 or 1.6) website content.
CBSubs 1.2 introduces over 25 new features, and provides over 40 bug-fixes. Main new features include:
Powerful promo+coupons engine with many conditions
Flexible conditions on plans (registration and upgrades)
Integration with GroupJive 2.3+
Calendar plans can start any date in year
New setting for Reactivation of expired plans without gap
Front-end viewing of memberships by admins or moderators (optional)
Emails on pending payments (incl. offline) and different emails on autorenewals
Improved CSS for templating of prices and plans
Plans display default selections can now be chosen
Ogone Payment Gateway now handles auto-recurring
New CCBill payment gateway
New payment processors integration service now available
The smart Promotions plugin is the revolutionary new feature of CBSubs 1.2. With it you can configure powerful promotions for your subscription plans and your merchandise items. More than a simple coupon feature, this functionality is limited only by your imagination. Many smart promotion use cases have been included in the CBSubs 1.2 guide including Gift certificate and Wallet examples.
To illustrate smart promotions functionality with a real world example, our Joomlapolis newsletter subscribers have been sent a special smart promotions coupon that gives them a 10% discount when purchasing any new CBSubs license as Professional members (Professional membership can be purchased same time as CBSubs license also).
All current license holders with up to date maintenance periods can download CBSubs 1.2 and easily upgrade their current installation. Upgrade instructions are included in new documentation guide.
For complete change-log see forum discussion at end of article.
{mos_sb_discuss:6}