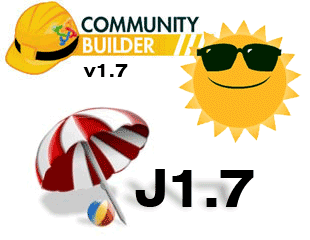 The CB Team has just released CB 1.7 which works on all Joomla versions: Joomla 1.0.x, 1.5.x (no legacy needed), Joomla 1.6.x and Joomla 1.7. CB 1.7 also works on Mambo 4.6.5+.
CB 1.7 can be freely downloaded by all registered members from our FREE Download area.
What happened with CB 1.5 and CB 1.6?
In order to address the latest Joomla 1.7 compatibility question and in anticipation of the CB 2.0 release later this year, we have decided to number this release 1.7.
We planned a 10 day RC cycle with Professional Membership testing of CB 1.7 RC before publicly releasing CB 1.7 stable. This testing has elapsed and all identified issues have been fixed.
Main CB 1.7 RC features include:
Joomla 1.7 support
Improvements for IE9 compatibility
CB substitution improvements
minor bug fixes identified in CB 1.4 and CB 1.7RC
{mos_sb_discuss:6}