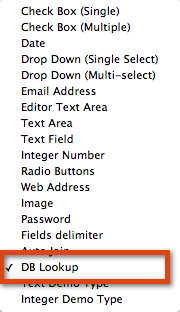 A brand new Incubator add-on has just been created. Version 1.0 of the CB DB Lookup Field plugin is now available for download for all Professional members. This plugin adds a new "DB Lookup" field type to the CB Field Management area. Such a field can be used on your registration form to force applicants to enter a prespecified code when registering. The code entered must validate (match) by successfully querying a database lookup table that is used to store valid access codes.
Many users have expressed similar use case scenarios that involve not permitting users to register if they do not have the proper access code. This new plugin can be used to accomplish such a use case.
The Incubator project area has a short wiki explanation that describes a typical use case scenario and a default code database table and SQL queries that work with this specific sample codes table.
It sounds technical, but its relatively easy to configure.
{mos_sb_discuss:6}