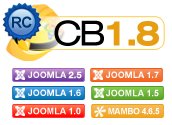 Community Builder 1.8 RC is available and can be downloaded from the Professional Download area by all Professional and Developer members.
CB 1.8 RC has been tested on all Joomla versions (and Mambo), including latest Joomla 2.5.1 (recently released)!
All identified bugs have been fixed and Joomla 2.5 ACL user groups, Permissions for management and View Access Levels are now supported.
CB 1.8 RC is currently powering our Joomlapolis website without any issues and has been tested on many live sites by our test team and by our Developer members.
The goal is to release CB 1.8 stable version before Joomla 1.7 end of life date.
See discussion below for release notes and changelog.
{mos_sb_discuss:6}