Ok, looks like it's time for another update. I think this one everyone will get pretty excited over. The long over do uploading of media directly on an activity or comment stream is coming. Check out a preview below.
First and foremost you can not upload during an edit. Uploads are only allowed on new posts. This applies to both activity and comments. A new button is added to the toolbar to toggle the upload functionality as shown below.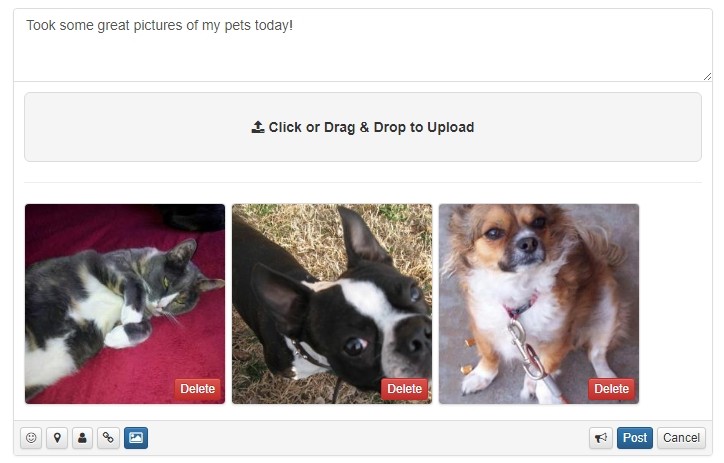 You can upload photos, files, videos, and music files. You can also upload multiple at once! The uploads are done immediately and do not wait for the post to be complete. You can also click the previews to open the modal window for each upload to see its full display. Once uploaded and posted you should see the media displays as follows.
As you can see it's the same display as seen in CB Gallery activity logged by CB Auto Actions. Except now it can group together ANY media type instead of only photos as it previously did. All uploads are also consolidated in a generated folder as shown below.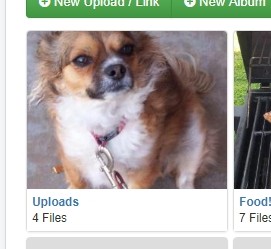 Uploads will always be placed in this folder. If the folder already exists it will of course use the existing folder. It can be freely renamed, description added, or even unpublished if necessary. If it does not exist one will be created for the user. Media in this folder can be freely moved around after upload as well and it will still display on the stream.
One thing to keep in mind is stream uploads are always linked to the posters profile. So they are always profile gallery uploads. All of this and more will be coming with CB Gallery 2.1.0 release. A nightly build for CB Auto Actions will also be made available so these uploads don't generate new activity entries.