CB Auto Actions 7.0.0 is progressing well. So far User object and Variable looping have both been fully implemented as well as new Output functionality.
User object looping basically lets you select a variable and checks if it's an array or a traversable class. It then loops the action through every object of that array and treats them as the user for the action if they're a CB user object. This ideally will be useful in being able to for example send notifications to an array of users via a trigger.
Variable looping is somewhat the same as user looping except it lets you loop the objects of a variable. This could mean you've an array of GJ groups and you want to modify every group of that array in a single action. This is now possible.
Next up is the Output parameters. The output parameters let you specify exactly how the auto action should display its contents. Before this was pretty strict to a action type (e.g. like a Code action). You couldn't for example run the results of an Activity stream through your own PHP to adjust the output. This is now possible though. Under the new Output tab you can specify how the output is displayed (return, echo, etc..) then you've a Layout parameter that works similar to Field layouts in that you can supply your own substitution supported string using [content] to substitute in the contents of the auto action. Once you've done that you can specify the method for the layout. By default the method is to treat the layout like HTML, but you can select PHP to treat the layout like PHP code and execute it accordingly. This is important because some plugins will take the return value and insert it into display while other plugins expect an array of values so you need access to both.
For an example of the new Output functionality check out an Activity stream rendered inside of a CB GroupJive group below.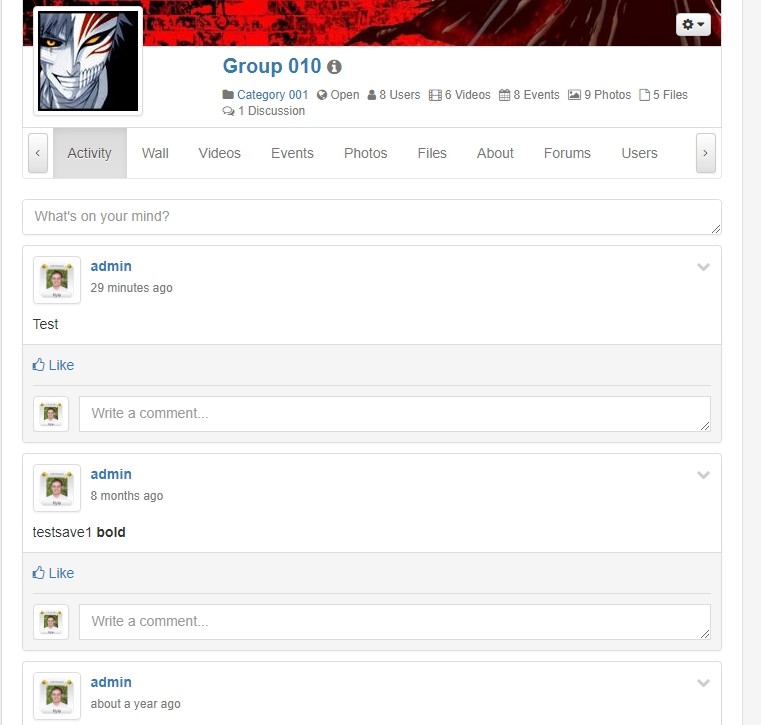 I know MANY of you are eager to put all this to work, but please hang in there a bit longer. There's still more work to be done and more importantly A LOT more testing to do. Once I've got all of this done the last feature will be new system actions for Gallery and Activity outputs directly in CB GroupJive Groups easily toggled on with a simple click. For now and the forseeable future there's no plans at this time to deprecate the existing photo, video, etc.. integrations since GJ can function without either Gallery or Activity.