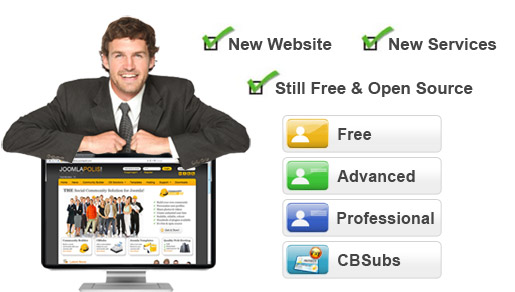 As you can see our website has a new professional look and new functionality. It also offers many new services to our members. Easier to understand and to navigate, it aims to provide a great experience to newcomers and experienced community members.
Community Builder remains a top-rated, free and opensource product for everyone. New Advanced and Professional memberships are now available for web-masters and for business / corporate organizations, as well as Installation services and professional consulting.
Our CB Documentation Subscribers have been upgraded to Advanced Members. They will continue to have access to the CB Add-ons package (140+ pages of documentation and 15+ add-ons) and their maintenance releases. Additionally, they now have a dedicated priority support forum area.
The 12 month Advanced Membership subscription fee will increase to 50 euro on February 1st. Until then you can become an Advanced Member - or renew your existing subscription for an extra year - for the same 35 euro fee. Act now and save 15 euro on your membership fee. We have added a cool count-down reminder to your user profile (just over your profile image).
Professional support plan services are now available for the serious and business critical environments. These members get all Advanced Membership benefits plus access to all our leading-edge developments (early access to CB releases and access to Incubator projects). All Professional priority forum support issues are quickly addressed (usually same or next business day) and private ticketing support option (with guaranteed SLA) is also available.
Finally, in our support offerings we are now providing fixed-price Installation services and professional consulting (hourly rate) services for everyone.
We have a series of new and exciting developments in the pipeline – GroupJive 2.0, CB 2.0, new Incubator projects and many more that will be hitting our new website very soon. So stay tuned and vist our News section to subscribe to our News Feeds and Twitter - Facebook services now!
{mos_sb_discuss:6}