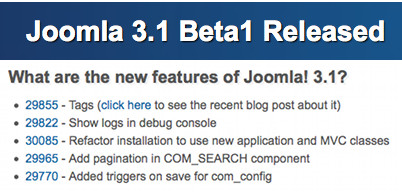 The Joomla project has just released Joomla CMS 3.1 beta 1 and will be releasing Joomla 3.1 stable in a couple of weeks (March 25th, 2013).
There are 5 new features in Joomla 3.1. The most prominent one is the new Tags functionality for Joomla content elements. This new feature lets you tag (mark) any content element (article, contact, etc.) and later on search for all elements of a specific tag.
The CB Team has also contributed a small new feature by adding missing triggers to the com_config component - every little contribution helps make our Joomla CMS even better.
Everyone can help, you can also:
The Joomla community is hosting a Pizza, Bugs and Fun global event this upcoming Saturday, March 16th, 2013. This is a great opportunity to help make your Joomla better and in the process to learn how to test and report and you will certainly make many cool new friends in the process. And if you are in Boston, the pizza is on us !
We have been testing Joomla 3.1 beta 1 with Community Builder, GroupJive, CB Activity, CBSubs, our 3 Joomla/CB templates and all our 100+ add-ons and we have not found a single issue!
This is great news as it means that all our products can work on all Joomla versions!
{mos_sb_discuss:6}