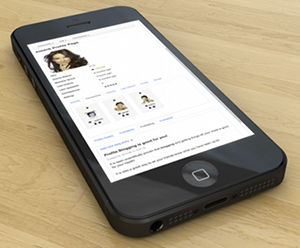 Make Community Builder responsive with the new CB Bootstrap 2.1 template plugin!
It's new, it's clean, it's super cool and it looks great on phones, tablets and computers, with your responsive Joomla template !
The CB Bootstrap template gives your existing profiles, user lists, tabs, menus, pop-ups and plugins a modern fresh new look.
It also styles all of the Advanced CB Add-ons and Professional Incubator add-ons profile apps.
You will be pleasantly surprised by the result. See for yourself how awesome CB Bootstrap looks on the CB Quickstart PRO demo site.
The new CB Bootstrap 2.1 template plugin is just one of the 43 add-ons available to Professional/Developer members and it also works great with our Joomlapolis Joomla 3.0 responsive templates.
* Phone image produced using PlaceIt