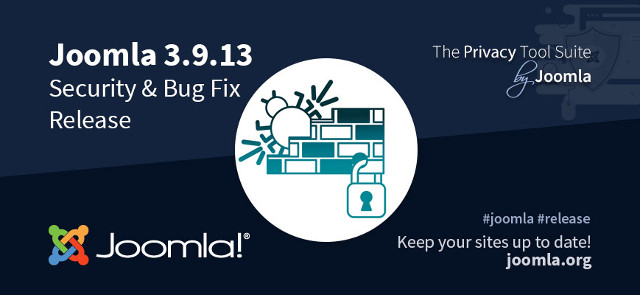 Joomla 3.9.13 is here - a security and bug fixes release!
The Joomla project team has recently released version 3.9.13 that adresses two low-priority security issues and fixes over 15 bugs.
Security Issue Fixed
Low Priority - Core - CSRF in com_template overrides view (affecting Joomla 3.2.0 through 3.9.12)

Low Priority - Core - Path Disclosure in phpuft8 mapping files (affecting Joomla 3.6.0 through 3.9.12)
Bug fixes and Improvements
Improve PHP 7.4 compatibility

Improve reverse proxy support

Fix active category detection

Fix message filtering

Improve sending mass mail
Community Builder 2.4.2 (latest build) and all Joomlapolis add-ons work just fine with Joomla 3.9.13. You can see everything in action on our demo site.
Joomla 3.9.13 is a recommended upgrade for all Joomla 3.x series sites - you should upgrade.
As always, before any Joomla upgrade on your live website, take a backup just in case anything goes wrong.
You can learn more about the fixed bugs by reading the Joomla 3.9.13 announcement.