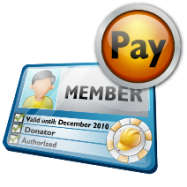 CBSubs 1.2.1 is now available for download.
Our Paid Memberships CBSubs package is a complete solution to turn your Joomla website into a paid subscriptions membership site. It comes with the Promotions Engine and a very detailed guide (470 pages) which will help you make even more income from your Joomla (1.5 or 1.6) website content.
CBSubs 1.2.1 is mainly a bug fixes release that addresses issues identified in earlier releases and in the CBSubs 1.2 features release. CBSubs 1.2.1 also supports CCBill and AlertPay gateways (plugin packages must be downloaded separately) and more gateways are in the development pipeline. Additional gateways can be supported on a professional services basis if needed.
All current license holders with up to date maintenance periods can download CBSubs 1.2.1 and easily upgrade their current installation. Upgrade instructions are included in new documentation guide.
For complete change-log see forum discussion at end of article.
{mos_sb_discuss:6}