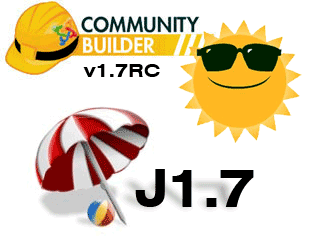 The CB Team is very excited to announce the release of its Joomla 1.7 ready CB 1.7 RC to all Professional Members. CB 1.7 RC installs and operates on all Joomla 1.5.x, Joomla 1.6.x and the latest Joomla 1.7 CMS (and Joomla 1.0.x / Mambo 4.6.5).
What happened with CB 1.5 and CB 1.6?
In order to address the latest Joomla 1.7 compatibility question and in anticipation of the CB 2.0 release later this year, we have decided to number this release 1.7.
The public, general availability ** FREE ** release of CB 1.7 stable is planned for August 1st. Until that time, the CB Team with the assistance of it's Professional membership feedback and it's Testing and Language Working groups will ensure that the resulting public release will be of top quality.
Professional Members can download CB 1.7 RC immediately (includes Joomla 1.7 specific updated installation document).
Main CB 1.7 RC features include:
Joomla 1.7 support
Improvements for IE9 compatibility
CB substitution improvements
minor bug fixes identified in CB 1.4
{mos_sb_discuss:6}