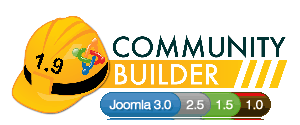 Community Builder 1.9 is great news for all Joomla websites - including Joomla 3.0 !
Yes, we have just released CB 1.9 and it's free for everyone.
You can downloaded it right away and install it on any Joomla version that is right for you !
And best of all, with CB 1.9 all our CB plugins will work on Joomla 3.0 as well!
All identified CB issues have been resolved (see discussion thread below for full changelog) and CB 1.9 is also PHP 5.4 compatible.
We are now pushing full speed ahead with CB 2.0 as described in our roadmap.
But you don't have to wait. You can get most of the new CB 2.0 features now using the just released CB Quickstart PRO 1.1 package which is now Joomla 3.0 compatible!
A simple install on your Joomla 2.5 or 3.0 website (with or without CB already installed) will give you an awesome bootstrap clean looking already configured social network with the new activity stream just like our demo site.
{mos_sb_discuss:6}